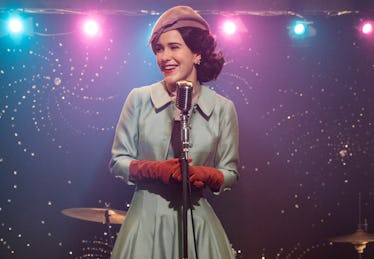 5 Questions About Midge's Love Life Fans Have After 'Marvelous Mrs. Maisel' Season 2
Amazon Studios
This post contains spoilers for Season 2 of The Marvelous Mrs. Maisel. After idyllic stints in Paris and the Catskills, The Marvelous Mrs. Maisel returned to its New York roots for the remainder of its second season. There, Midge's romance with eccentric doctor Benjamin flourished, while Joel buried himself in work and flirted with any woman who looked his way. The separated couple seemed to be taking very different paths, but the season finale threw fans for a loop. Will Midge get married in The Marvelous Mrs. Maisel Season 3? Despite hinting at a future wedding, the finale proves that her love life will be even more complex next season.
In Season 2, Midge (Rachel Brosnahan) seemed to meet her match in the unconventional Benjamin (Zachary Levi), who gamely accepted her stand-up comedy and admired her fearlessness. Meanwhile, Joel (Michael Zegen) was clearly not over Midge, anxiously wondering about her new relationship when he wasn't drunkenly stumbling around his factory-turned-apartment. Joel was on his way to being old news in Midge's life when she admitted to feeling open about marriage to Benjamin. But upon Abe's (Tony Shalhoub) approval of Benjamin and the prospect of a European tour, Midge panicked, running back into Joel's arms seemingly for a one night stand.
So, now that we presumably have a whole year before receiving answers, we've narrowed down some of our biggest concerns about Midge's love life next season.