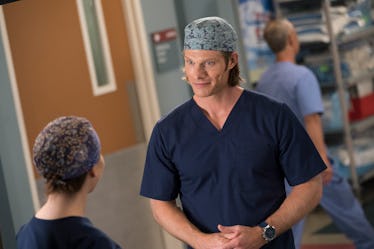 'Grey's Anatomy' Introduced A New Doctor, But He May Not Be Meredith's New Love Interest
ABC/Mitch Haaseth
The Season 15 premiere of Grey's Anatomy tackled the year's tagline of "the season of love" instantly, showing Meredith having recurring sex dreams and trying to convince her matchmaking patient that she wasn't looking for a partner. Although she eventually asked matchmaker Cece to help her love life, Meredith danced around some flirty attention from "Ortho God" Atticus Lincoln, aka Linc. Linc was definitely persistent in wanting to know Meredith, so will Meredith and Linc date on Grey's Anatomy?
After his introductory slow-mo strut in the first part of the season premiere, Linc (Chris Carmack) proved to be a very confident surgeon, but he felt reminiscent of an overeager golden retriever. He smoothly tried to introduce himself to Meredith, who initially rebuffed him and later couldn't fathom why he chose to go by Linc. The excited puppy look pops up again in next week's episode preview, in which Linc appears to ask out Amelia, who is giving her relationship with Owen another shot. After working with presumingly all men on the Seattle Mariners, Linc seems a little too eager to date a colleague, which doesn't exactly mean that Meredith is special in his eyes.
Grey's Anatomy showrunner Krista Vernoff addressed the possibility of the two dating in an interview with TVLine, saying:
[With Linc's flirtatious scenes] I was trying to say that there are options everywhere when suddenly you open your eyes. Meredith is resistant. She shuts him down hard. I don't know if Linc is Meredith's type, but I think she doesn't know either. She doesn't know who she is romantically, as this adult woman post-Derek. So, who knows?
As for the footage of Meredith in bed with DeLuca, the fan theory that their hookup was a dream came true. Likely inspired by DeLuca drunkenly kissing her at Jo and Alex's wedding in Season 14, Meredith repeatedly dreamt of being with him, but any real-life tension fell flat. DeLuca apologized for kissing her, but the episode didn't hint at the pair picking up where they left off at the wedding. I guess DeLuca is just destined to save lives and lend out his motorcycle to other doctors rather than becoming someone's love interest.
As DeLuca seems like a defunct option and Linc clearly has a wandering eye, Meredith's search for a new Prince Charming definitely isn't going to be obvious. Vernoff told TVLine, "What we're doing that's different than what we've seen is, she's gotta go on dates. Like in real life, love doesn't always land in your lap with the first date."
Despite the hints at an attraction between Linc and Meredith, Grey's Anatomy fans didn't seem too thrilled with the prospect on Twitter.
Meredith met Derek more than a decade ago, so unlike some of the younger doctors and interns at Grey Sloan Memorial, she hasn't quite experienced the modern-day dating saga. Will Cece recommend dating apps to her? Will she go to speed-dating sessions? Most importantly, will she venture outside the hospital to find a man she hasn't worked with? Here's hoping that Cece encourages Meredith to look past the hospital borders for love, because the options at Grey Sloan seem a little slim.
Season 15 of Grey's Anatomy continues at 8 p.m. ET, Thursday, Oct. 4, on ABC.