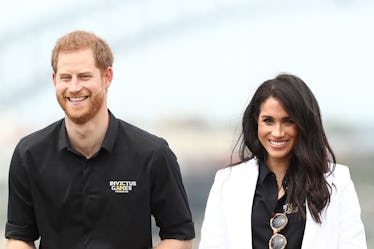 Here's What We Know About Meghan & Harry's Plans For Thanksgiving
Mark Metcalfe/Getty Images Entertainment/Getty Images
Thanksgiving is fast approaching and while millions of Americans are preparing for the special day, there's one American out in the world a lot of people are wondering about: Meghan Markle. Though American by birth, Meghan is a newly-minted Duchess and an important part of the British royal family. So, a lot of folks are wondering how Meghan will handle Thanksgiving now that she's on the other side of the pond. Will Meghan Markle and Prince Harry celebrate Thanksgiving?
Well, Meghan is certainly enthusiastic about the holiday, so that's a good sign. According to a 2016 report from Us Weekly, Meghan once posted about her love for cooking and Thanksgiving on Instagram.
"Oh, that time I roasted a pretty perfect Thanksgiving turkey!" she captioned a now deleted photo. "The question is, can I do it again? The pressure is on!"
The photo apparently showed Meghan posing with a turkey she'd made herself. And while the photo has been deleted, as have all of Meghan's social media posts since she became a Duchess, it's probably safe to say that her enthusiasm for the holiday hasn't waned at all.
So, will she be bringing Thanksgiving celebrations to Kensington Palace? In all honesty, it's possible that she might. According to the royal family's website, many of the main members of the royal family don't have anything planned for Nov. 20 through Nov. 24. And that just happens to be the week of Thanksgiving. That means that Prince Harry, Meghan, Prince William, Duchess Kate, Prince Charles, and Queen Elizabeth are all free for a potential Thanksgiving dinner.
So, is Meghan planning a big Thanksgiving bash for her new in-laws? Maybe. The only hitch is that Charles' wife Camilla, Duchess of Cornwall, is busy that week. Camilla will "hold a reception for winners of The Queen's Commonwealth Essay Competition, Buckingham Palace" on Nov. 22.
Maybe Camilla will skip out on Thanksgiving dinner if Meghan decides to have one. And maybe even Charles will skip out as well. But that still leaves most of the royal family free to enjoy some turkey and stuffing with their newest Duchess.
And let's not forget that Meghan is pregnant with her first child, so this is a very special time for Harry and Meghan. It wouldn't surprise me at all if the royal family decided to honor Meghan's American roots by encouraging her to celebrate Turkey Day. Queen Elizabeth has already invited Meghan's mother Doria Ragland for Christmas.
According to the Sunday Express, the Queen invited Ragland for Christmas in an effort to show Meghan that she's a welcome member of the family, especially since she doesn't have much family around her at present.
"It's a mark of the Queen's respect for Meghan and an acknowledgment that she doesn't have any other relations in this country — unlike Kate, who has the support of a very close family," a source told Sunday Express.
So, that's a positive sign that a Thanksgiving dinner could also be on the books for the royal family. I guess everyone will just have to wait and see how it all goes down... if the royal family decides to give the public a glimpse into their private celebrations, that is!