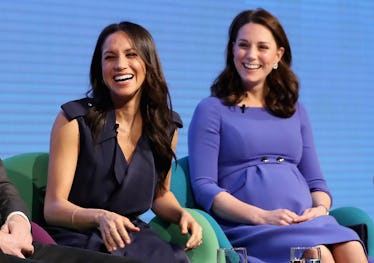 Meghan Markle Will Have To Do One Important Thing To Kate Middleton On Her Wedding Day
Chris Jackson/Getty Images Entertainment/Getty Images
Do you hear those wedding bells ringing? That's probably because Meghan Markle and Prince Harry's wedding is less than two weeks away, and it's starting to get really real, people! And, with a royal wedding comes some royal etiquette that Meghan Markle is going to have to learn, because apparently, that's a pretty big thing for the family she's marrying into (who knew?). One piece of etiquette, for starters, is whether or not Meghan Markle will have to curtsy to Kate Middleton at the royal wedding. There are a ton of ~rules and regulations~ about it, so let me do the honors of schooling you on the subject.
Bowing and curtsying in the royal court is more than just tradition; it's seen as a form of respect, and should be honored in such a way that shows admiration for the person you are bowing or curtsying for. But with so many royals at Prince Harry and Meghan Markle's wedding day, who exactly is she expected to curtsy to? According to The Daily Express, Markle will "always be expected to curtsy to her sister-in-law, the Duchess of Cambridge," as well as Queen Elizabeth.
Though Kate Middleton (aka the Duchess of Cambridge) was born a commoner, the rules were updated in 2012, after Middleton married Prince William.
And when it comes to any men in the royal court, Markle will only curtsy to those who have the title of prince.
Confused? Me too!
Hopefully, Markle is getting lessons about proper etiquette after their nuptials as well, because those rules are also quite dizzying. According to Best Life, once Meghan and Harry are married and are attending events together, Markle will curtsy to the Queen, Prince Charles, and Camilla, while Charles' sister, Princess Anne, and Prince Harry's cousins, Princess Eugenie and Beatrice, will actually have to curtsy to Markle, since Markle "assumes Harry's rank" when he is in the room with her.
But! If Harry is not present, then "Meghan would have to curtsy to everyone, including "blood princesses" such as Eugenie, Beatrice, and Anne."
Understand it now? Cool, me neither!
And just to confuse you even more: Though the rules dictate that Markle must curtsy for Kate Middleton, "it's unlikely this occurs in private" and typically "depends on the presence of their royal husband."
Times like these I'm actually relieved that I'm not married into royalty, because there is a 100 percent chance I'd forget all of these rules within mere minutes of learning about them.
Another royal rule that Meghan Markle and Prince Harry will most likely be following? Bowing and curtsying to the Queen after their wedding ceremony.
While Kate Middleton didn't curtsy to Queen Elizabeth as she walked down the aisle to meet her prince, she and Prince William did bow and curtsy to her as they walked down the aisle together for the first time as husband and wife. So, if the future king and queen adhered to that rule, methinks that Prince Harry and Meghan Markle will plan to as well.
For rule-breakers like Harry and Meghan, I'm sure some of these traditions are just things that come at the cost of being a royal, but surely they'll show off some untraditional aspects of their wedding in other ways. It looks like Prince Harry will wear a wedding band after he says his wedding vows, which is not typical for a royal (and is all sorts of adorable). And their wedding day falls on a weekend, which is not typical for Prince Harry's immediate family (Remember, Prince William and Kate Middleton were wed on Friday, April 29, 2011, and Harry's parents, Princess Diana and Prince Charles were wed on Wednesday, July 29, 1981).
So, while Meghan and Harry get to go against the grain with some parts of their wedding, other aspects simply have to be followed by the book. A small price to pay for being a part of royalty, if you ask me.