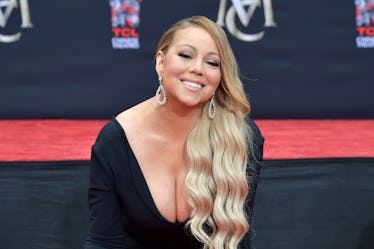 Here's What We Know About Whether Mariah Carey Will Perform On New Year's Eve
Neilson Barnard/Getty Images Entertainment/Getty Images
It's that glorious time of year again when Mariah Carey emerges to spread the holiday cheer through performances of her festive tunes and other signature ballads. Whether it's for Christmas or for New Year's Eve, you can almost always count on the iconic diva to take the stage, which prompts the question: will Mariah Carey perform on New Year's Eve 2018? Well, she's certainly got some plans that day.
If you were hoping to see her serenade hits like "All I Want For Christmas Is You" or "Hero" in New York like she's typically done, you better brace yourself, because this year, Carey is heading south. According to Us Weekly, she'll be heading to St. Barts, where she'll be celebrating with her family.
"I am excited to ring in the new year at Nikki Beach with my family, loved ones and everyone who joins the festivities!" the "We Belong Together" crooner told the publication. "St. Barts is a special island and it will be a great place to start 2019." Elite Daily reached out to representatives for Carey for further comment on her reported plans, including comment on whether she'll perform while at Nikki Beach, but did not receive a reply by the time of publication.
While it's unclear if she'll be performing, you can't be mad at her for switching things up. In fact, Carey has had such a helluva year that I honestly wouldn't be upset if she doesn't (at least not publicly). The five-time Grammy winner has been hard at work promoting her 15th studio album Caution, which was released on Nov. 16, and traveling all over to do interviews, from sitting down with Genius in November to discuss her songwriting to talking with Jimmy Fallon the same month about the recent rebirth of her 2001 album Glitter (which was a critical and commercial failure upon its release but reached No. 1 on iTunes in November, thanks to her dedicated fan base). Clearly, this mama of two deserves some personal time with #dembabies, so if that's the case, so be it.
Besides, Carey has signed on for multiple NYE performances in the past — like when she brought in 2018 with a set in New York, which she absolutely owned, by the way. These tweets about her performance, from her stunning fur coat to her beautiful renditions of "Vision of Love" and "Hero," honestly say it all.
She also performed in 2016, although that one wasn't as glowing. The performance was basically marred by sound issues, leaving the "A No No" singer stumbling through her performance. Eventually, she stopped trying completely and instead walked around the stage saying that her ear-piece wasn't working. A bunch of lip-syncing accusations followed, as well as some really nasty headlines about her performance. It was, frankly, a disaster. At the time, her reps told Us Weekly, "There unfortunately was nothing she could do to continue with the performance given the circumstances."
Of course, Carey bounced back from that the following year. And if she just so happens to perform this year, I'm sure it'll be even better. Let's all just cross our fingers that it'll somehow, some way, be televised for all of our viewing pleasures.
Happy (almost) New Year!