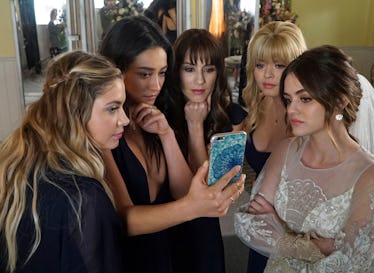 Lucy Hale Has Amazing News For 'Pretty Little Liars' Fans Who Are Begging For A Reunion
Freeform
Fans are still in the dark about the premiere date of Freeform's latest teen drama The Perfectionists, but they can officially expect at least two Pretty Little Liars alums when the series hits the screen sometime next year. Sasha Pieterse and Janel Parrish are already linked to Pretty Little Liars spinoff The Perfectionists, which is also based on a book by author Sara Shepard, but will we see any of the other Liars reunited in the new show? One former cast member thinks it may be possible, so will Lucy Hale be in The Perfectionists? The actress seems open to the possibility.
Officially billed as Pretty Little Liars: The Perfectionists, the upcoming series is set to introduce a story that another book series by Pretty Little Liars author Shepard originally visited. Pieterse returns as Pretty Little Liars character Alison, who travels to the seemingly perfect town of Beacon Heights to work as a faculty member at a university. Parrish's Mona also pops up, but the new focus of this series is the Perfectionists, aka three college friends who are struggling with their status as overachievers. When the town's first ever murder occurs, each of the three students hides behind "a secret, a lie, and an alibi," as the Freeform website writes.
Obviously taking place in the same universe as Pretty Little Liars and also developed by PLL boss I. Marlene King, The Perfectionists leaves plenty of room for more crossover action between the two dramas. While the first season should understandably be dedicated to the new characters and its dark plot, a true spinoff isn't such without a throwback to its original material. Speaking to Access, Pretty Little Liars' Lucy Hale teased the possibility of herself and her former co-stars appearing on the new show, saying:
[A reunion] for all the girls? Yeah, I think so. You know, they're doing the spinoff and I think, maybe. However, it doesn't seem like there are concrete plans for a major reunion in the new show yet. I don't know like what they're doing with the show and how it intertwines with PLL or how they're making it work. But I'm excited. I'm so excited for everyone and yeah, I think a reunion is very possible.
Mark her words, we totally haven't seen the last of the original Liars.
To All the Boys I've Loved Before star Parrish has previously shared that fans will see an "evolved" Mona in The Perfectionists, and given how Pretty Little Liars ended, we could certainly expect to see an equally evolved Aria if Hale steps into the character's shoes again. In the series finale, Aria and Ezra were planning their wedding and then discussing the possibility of adopting children. Compared to the other Liars, Aria actually received the most normal of sendoffs, so her presence on The Perfectionists could just turn into an opportunity for her to be calming and motherly toward these inarguably stressed Perfectionists.
While Mona was in Paris when the original series ended, Pieterse has spilled about how Mona and Alison will relate to each other in the spinoff, telling Entertainment Tonight:
When I read the draft that we were going to film, I cracked up in so many spots because of the way that they tie in their two characters. They kind of become allies in a way and it's this very interesting kind of dynamic, 'cause Alison's obviously not sure if she can trust Mona. I mean, can you ever trust Mona? But the way that she ends up being in this new town is very mysterious, but also hilarious, the way that she kind of rides over these questions.
A Pretty Little Liars reunion definitely won't be immediate when this spinoff airs, but Mona and Alison seemingly teaming up to solve this murder mystery is enough of a bond to intrigue me. The Perfectionists premieres on Freeform in 2019.