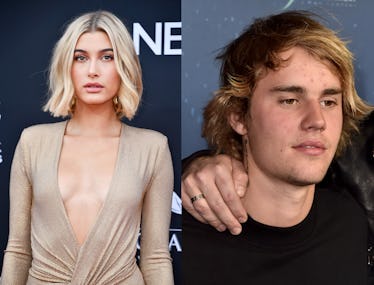 Fans Think Justin & Hailey Will Break Up Again, So Here's What The Experts Say
Getty Images
In case you missed the memo, my friends, LOVE IS IN THE AIR. Especially in Hollywood. Name a celebrity. Seriously. Camila Mendes? Totally in love. Ariana Grande? I think we all know her relationship status is very taken at this point. Justin Bieber? ENGAGED. Yep, that's right. You read that correctly. This past Sunday (Jul. 8), TMZ reported that Justin got engaged to his on again/off again bae, Hailey Baldwin. This is all super exciting but lots of fans can't help but wonder if Justin and Hailey will stay together.
The pair has been linked on and off since 2014, and according to TMZ, Bieber popped the question on Saturday night in front of a crowd. "Two eyewitnesses who claim to have seen the proposal go down tell us it happened at a resort in the Bahamas," TMZ reports. "They say everyone was at a restaurant on the property doing salsa dancing when Justin's security told everyone to put their phones away, because something special was about to happen."
Of course, this is joyous news and we're all happy that the two young stars have found love... but some fans are turning to Twitter to express concerns about the couple getting engaged so shortly after getting back together earlier this month.
OK, I totally see where they're coming from. But let's take the question over to the experts.
Dr. Gary Brown is a prominent marriage counselor in Los Angeles. While he admits he can't really comment on Bieber and Baldwin specifically since he has never personally worked with them, he can speak on his experience working with similar couples.
"As a marriage counselor who has worked with hundreds of couples for over 25 years, you do notice certain trends in terms of factors that help us formulate an idea about which couples are more likely to succeed in marriage, and those that may not have the best prognosis," says Dr. Brown. "On again/off again relationships can go either way. It wouldn't be fair to Justin and Hailey to speculate in any detail because we don't really know everything that is in their private hearts and their minds."
Jeffrey B. Rubin, PhD. practices psychotherapy and teaches meditation in New York City and Bedford Hills, NY. He is the author of six books including The Art of a Flourishing, Meditative Psychotherapy, and Psychotherapy and Buddhism. We asked him what he believes to be the secret in making an on-again/off-again relationship work after finally deciding to become "on" again.
"Whether an 'on-again/off-again' couple 'make it,' in my opinion, depends on a host of factors, from how much they learned from past mistakes to how committed they really are now," explains Dr. Rubin. "The more they have learned about themselves and their partner and the more kind and empathic they are now the better they will do." So, as long as Bieber and Baldwin have truly figured out what they want going forward and where they went wrong in the past, they could have a real shot at making it this time around.
Dr. Brown suggests another factor to take into account here is age. "In general, one factor to consider are the ages of each member of an engaged couple. In general, people who get married under the age of 25 have a more difficult time staying together over the long run." With Baldwin at 21 years old and Bieber at 24, this could potentially leave them in the danger zone.
"There are specific reasons for this. Among them is the maturity level of each member," he explains. "Couples who get married closer to the age of 30 seem to have a better chance of marital success. Typically they have had more life experiences to learn from. They often have a better idea of what they want in a marriage, and what they don't want. Having said that, there are exceptions and Justin and Hailey could potentially be that exception."
In fact, Dr. Brown suggests the couple's on-again/off-again history could help them beat these odds. "Couples who have a history of returning to each other over time have that working in their favor," he explains. Something continues to draw them back to each other and this is significant."
So... as far as I can see, things are looking on up for Biebs and Baldwin! Congrats to the happy couple!
Check out the entire Gen Why series and other videos on Facebook and the Bustle app across Apple TV, Roku, and Amazon Fire TV.
Check out the "Best of Elite Daily" stream in the Bustle App for more stories just like this!