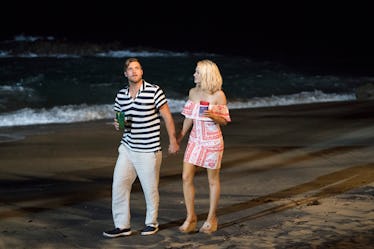 Chris Harrison Reveals Whether Or Not Jordan Will Breakup With Jenna On TV
ABC
Any happy feelings that Sept. 11's Bachelor in Paradise finale left us with definitely shriveled when reports of Season 5 contestant Jenna Cooper allegedly cheating on fiancé Jordan Kimball led to the couple's breakup. The past few days in Bachelor Nation have been a whirlwind of conflicting stories, but if anyone is expecting the franchise to capitalize on Jenna and Jordan's painful split, think again. Will Jordan and Jenna breakup on TV? Chris Harrison has assured fans that we won't see the breakup play out onscreen.
Normally, when Bachelor couples break up soon after a season ends, TV cameras don't exactly seek out the pair for all of the juicy details. But thanks to Season 22 Bachelor Arie Luyendyk's ever-changing explanation of why ABC cameras filmed his breakup with Final Rose pick Becca Kufrin, viewers' trust in the franchise to practice common decency has definitely waned. Although Becca might have gotten the short end of the stick during her breakup, Chris recently told Entertainment Tonight that the complicated details of Jordan and Jenna's breakup won't appear on TV, saying:
A lot of this stuff is going to be off camera. A lot of the conversations will take place, and we won't be shooting it. This won't be for specials. It's just making sure these human beings are OK.
Earlier this week, Bachelor spoiler guru Reality Steve shared screenshots of a text conversation allegedly between Jenna and another man to whom she was romantically linked. In the texts, Jenna claimed that she didn't love Jordan and that she planned to end the relationship and frame Jordan as the one to blame in the breakup. While a shaken Jordan soon revealed he had ended the relationship upon the news, Jenna released a statement to PEOPLE explaining herself, saying:
I am aware of the allegations being made against me and they are simply untrue. I am choosing to focus on my relationship right now. Thank you for respecting my privacy at this time.
Jenna also shared a longer message on Instagram, writing:
I want to start by saying those texts were completely fabricated, and I never sent them to anyone. I did not cheat on Jordan, and I have nothing to hide... I have an attorney helping me investigate this hurtful and fraudulent attack on my character. We are evaluating all legal remedies available to punish those responsible.
Jordan and his fellow Paradise castmates aren't the only ones dumbfounded by this revelation. Chris told ET that he also believed in Jordan and Jenna's relationship, saying:
All I can say is that when I left them on the beach engaged, they seemed to be very much in love. The last time I saw them together was on stage at the special that we shot, and you know if she's faking it, she fooled me too.
While the couple's split, as well as Jordan's reflective Instagram post, seem to hint that there's no hope of the two reconciling, Jenna's own statements suggest that she's seeking a reunion with Jordan. Until the two decide to share more information with the public, we'll have to wait and see how this story fares in the long run.
Season 23 of The Bachelor premieres on Monday, Jan. 7, 2019, on ABC.