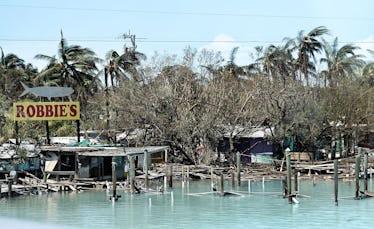 Tropical Storm Nate Is Heading Toward The U.S. And This Part Of Florida Is In Danger
Marc Serota/Getty Images News/Getty Images
While America continues to respond to the damage caused by Hurricane Harvey, Irma, and Maria, yet another high-powered storm is forming in the waters south of the U.S. mainland. That storm is Tropical Storm Nate, which is expected to strengthen to a hurricane by the time it makes its projected arrival to the mainland on Sunday. That projection begs the question any American would usually have when a storm is forming near the Caribbean: Will Hurricane Nate hit Florida, and should the state be concerned?
The question was more or less answered by Florida Gov. Rick Scott on Thursday, Oct. 5. when Scott issued a state of emergency for a number of counties in the Sunshine State.
Gov. Scott said in a statement,
I have continued to be briefed by the Florida Division of Emergency Management on Tropical Storm Nate and while current forecast models have the storm's center west of Florida, we must be vigilant and get prepared. Today, given these forecasts, I have declared a state of emergency for 29 counties in Florida to make certain that state, federal and local governments are able to work together and ensure resources are dispersed to local communities. By declaring an emergency in these counties, we can also ensure that there is no hindrance in the transportation of supplies and assets.
That Scott only issued a state of emergency for some of Florida is indicative of Nate's projected path.
The eye of the storm is expected to travel west of the state of Florida, however, projections also show the storm's cone to be passing over the Florida panhandle, the slender, northwestern portion of the state.
The governor said at a press conference,
It seems like this is going to impact all the counties that didn't have major impact from Irma.
It was just a few weeks ago that Hurricane Irma hit Florida's mainland as a Category 3 storm. Before reaching the mainland, though, Irma struck the Florida Keys at Category 4 strength, leveling devastation on the chain of islands.
My heart goes out to people in the Keys. I mean, it's — there's devastation. I know for our entire state, but especially for the keys, it's going to be a long road. There's a lot of damage.
Though Irma did cause significant damage, it seemed to have spared Florida its worst. Days before it made landfall in the sunshine state, meteorologists worried that the storm would take a "worst case scenario" path.
Rick Luettich, director of the University of North Carolina's Institute of Marine Sciences, expressed the idea that Florida could have seen worse when he told the New York Times.
The west coast of Florida still has plenty of disasters that are waiting to happen. This was really a best-case scenario, from a track perspective, for a storm this strong.
This time around, most of Florida looks like it will be spared from a storm's worst again.
In fact, Florida is not the most endangered among U.S. states on which Nate has set its sights. A hurricane watch is in effect in parts of Louisiana, including New Orleans, as well as parts of southern Mississippi, per the Weather Channel.
Meanwhile, despite the fact that Nate is still only a Tropical Storm, it has caused damage in Central America, were 22 people have been reported dead as a result of the storm.
Next on Nate's path is Mexico's Yucatan Peninsula, where the popular resort town of Cancun lies. Afterward, the storm will head towards the American gulf coast, where it will pose a threat to Louisiana, Mississippi, Alabama and the northwest portion of Florida.