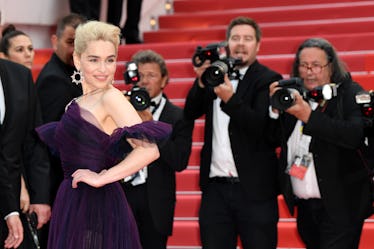 Emilia Clarke Is Convinced 'GOT' Will Have Multiple Endings, So Start Taking Deep Breaths
Pascal Le Segretain/Getty Images Entertainment/Getty Images
Game of Thrones Season 8 filming rumors continue apace this month, with cast members gathering in one place to film a major scene, and word that Sophie Turner might have finished her work on the show for good with weeks still left in production. But are any of these stories true? Some of them just don't add up. Suddenly, those rumors early-on about the production plotting to write fake scenes to throw off spoiler hounds doesn't seem so far-fetched after all. Will Game Of Thrones have multiple endings? At least one actor on the show seems completely convinced: Emilia Clarke.
Clarke is actually on a break from filming these last couple of weeks. She arrived in New York for the Met Gala on Sunday, May 6, then flew to California for the Los Angeles premiere of Solo: A Star Wars Story. She then jetted off to Cannes for Solo's premiere there and will be back in the states next week for more Solo pushing on the late night talk show circuit.
In between, she's been showered with interviews, all in the name of pushing Solo into the headlines. But you don't play the Mother of Dragons on the biggest show in the world and not find people questioning you about it at every occasion.
Her latest sit down was with The Hollywood Reporter's "Awards Chatter" podcast, where she spent nearly an hour discussing her experiences on both Solo and Game of Thrones without dropping a single spoiler about either. But there are quite a few things she did say which warrant attention, the biggest of which is that she genuinely seems to believe the Game of Thrones showrunners have given some of them fake endings.
I don't know that I even [know the ending] now. I'm being serious. I think they're filming a bunch of stuff and they're not telling us. I'm being serious. I'm being deadly serious. I think that they don't even trust us. There's lots of different endings that could happen; I think we're doing all of them and we aren't being told which is actually what's going to happen.
For the record, there are other cast members (like Nikolaj Coster-Waldau) who say this is utter hooey, but maybe they don't make it to the end, so what do they know?
In lieu of spoilers, Clarke instead talked about her early years on the show, some of which she's never discussed before. One tidbit: How terrified she was during Season 1 filming. She carried the first book of the series around with her everywhere, reading and re-reading it like it was a lifeline. As hardcore fans know, she was actually the re-cast of the Dany character, and her insecurity led her to believe the show had made a mistake in doing that.
I literally would just wake up and try and survive the day. Like, literally, 'don't let them know that they shouldn't have hired you, cause they shouldn't have hired you.'
She also reveals the most spine-tingling scene she's filmed over the years is the moment in Season 3 where Dany drops the hammer and flame-broils the slave masters. She says that tied with stuff from Season 8, but she can't reveal what. "But yeah, my god what's coming up… I just wanna let you know it's gonna be good!"
But mostly, she's just grateful for the chance to play the character for all these years.
The transformation of Daenerys is the greatest gift I've been given as an actor, 100 percent... It's incredibly emotional, this final season that we're in the middle of right now… I truly get really emotional just even thinking about the end of the show [because] what you're leaving behind is… everything that has happened to me in my 20s — 10 years of my life was woven within the show. You know, there's so much that's happened to all of us, and you're walking away from all of that… Daenerys is so much a part of who I am, and I am so much a part of who she is, so it's this incredibly frightening thing to walk away from — but at the same time, unbelievably exciting.
Solo: A Star Wars Story arrives in theaters on May 25, 2018. Game of Thrones will turn up on HBO sometime in 2019.