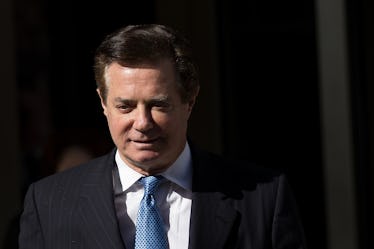 Donald Trump Has Given Some Interesting Hints About Whether He'll Pardon Manafort
Drew Angerer/Getty Images News/Getty Images
Aug. 21 turned out to be quite the day for a few former employees of President Donald Trump, and in turn it probably wasn't all that great for Trump himself. The president's former attorney Michael Cohen pleaded guilty to eight criminal charges on Aug. 21, and on the same day, his former campaign chairman Paul Manafort was found guilty on eight counts of fraud. While it doesn't look like Cohen will benefit from Trump's executive powers, will Donald Trump pardon Paul Manafort? I wouldn't rule it out.
Manafort was charged with 18 counts of bank fraud, tax evasion, and hiding foreign bank accounts, according to CNN. In federal court on Tuesday, Aug. 21, Trump's former campaign chairman was found guilty on eight of those counts — five counts of tax fraud, two counts of bank fraud, and one count of hiding foreign bank accounts — and the other 10 charges were declared a mistrial by Judge T.S. Ellis, meaning the jury could not decide on a verdict and Manafort may be tried on the charges again. For the charges he was found guilty on, Manafort faces up to 80 years in prison.
While 80 years is a long time, Manafort might get out of the whole ordeal scot-free if Trump chooses to pardon him. Judging by Trump's recent tweet, that's the direction it might be headed. In a morning tweet on Aug. 22 Trump wrote that he feels "very badly" for Manafort and his family. He said,
I feel very badly for Paul Manafort and his wonderful family. "Justice" took a 12 year old tax case, among other things, applied tremendous pressure on him and, unlike Michael Cohen, he refused to "break" - make up stories in order to get a "deal." Such respect for a brave man
As president, Trump has the power to pardon people convicted of federal crimes as granted by the constitution. However, there are limits — Trump can't pardon state-level convictions and he can't pardon in cases of impeachment. Manafort, however, is within Trump's power to pardon, since he was convicted in a federal court.
In fact, a Trump surrogate has already suggested that pardons might be coming. Rudy Giuliani, Trump's attorney, told the New York Daily News in June in reference to the Manafort case that "when the whole thing is over, things might get cleaned up with some presidential pardons."
On the other hand, Giuliani added that Trump "will not do it, based on my advice and all our team." So who knows, really.
In contrast to his tweet supporting Manafort, Trump also decided to share a few words for his former attorney. Cohen, who pleaded guilty to eight counts of fraud on Aug. 21, appeared to have implicated Trump with an admission in court. He claimed he paid $280,000 in hush money to Stormy Daniels and Karen McDougal — both of whom alleged that they had affairs with Trump and claimed they were paid off in exchange for their silence — "in coordination and at the direction of a candidate for federal office," according to the Los Angeles Times. Trump denies all claims of affairs with either woman. Elite Daily reached out the White House for comment on Cohen's claims but did not immediately hear back.
As you can imagine, Trump's response to Cohen's claims wasn't sympathetic. "If anyone is looking for a good lawyer," Trump tweeted, "I would strongly suggest that you don't retain the services of Michael Cohen!"
It's pretty safe to say that Cohen has been knocked off the pardon list. But I think Manafort's name might be in bold at the top.