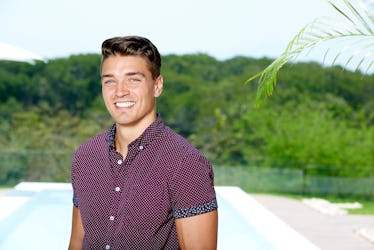 Fans Really Want Dean To Be On 'The Bachelor Winter Games,' So Will He Be?
ABC/ Bob D'Amico
There aren't any Bachelor shows airing right now, but that doesn't mean we've lost interest. Who are we kidding here? While Arie Luyendyk Jr.'s upcoming season of The Bachelor films in a fairytale land of roses and flowing wine near Malibu, we're over here writing down our wish lists for the inaugural installment of The Bachelor Winter Games. One casting question likely on the minds of Bachelor Nation is: Will Dean be on The Bachelor Winter Games? Dean Unglert was at the center of this summer's Bachelor In Paradise's love triangle craziness, so who knows what kind of heat he could bring to the cold Vermont winter? Many fans are wondering if he'll be joining the latest Bachelor spinoff.
The Winter Games will coincide with the 2018 Winter Olympics and have contestants competing in a serious of athletic challenges, all while looking for love. Obviously. It's already been announced that Peter Kraus, runner-up from Rachel Lindsay's season of The Bachelorette, will be a part of the action. But unfortunately he's the only familiar face to be confirmed so far. Peter and Dean are buddies and Dean doesn't appear to have completely put the Bachelor universe behind him, so maybe Peter will convince him to sign on the dotted line if the producers are interested...
And why wouldn't they be? Although Dean may have rubbed audiences the wrong way due to his not-so-sensitive handling of the whole Kristina/D-Lo situation, he was still a hugely buzzed-about element of the season. Love him or hate him, social media was all a-twitter regarding his shenanigans. It drove the season's intrigue up a notch and got America talking.
Personally, I think it would interesting to see if Dean's learned from the mistakes he's owned up to making and try his hand at another shot again. He's young and the reality world is his oyster right now. He's also got tons friends on his side. Dean has spent time with fan-favorite alums like Ashley Iaconetti, Becca Tilley, and of course Peter. Despite the lack of Winter Games casting news thus far, Tilley recently revealed to Ashley on Ashley and Ben Higgins' Almost Famous Podcast that she might be down, saying, "I'm retired … actually, I say that, but the Bachelor Winter Games sounds so fun!" Another group trip, perhaps?
It's not like Dean's totally hidden away from the spotlight post-BIP. Deanie Baby's gotten into the podcast game himself with Help! I Suck at Dating, a program devoted to — what else? — helping him and the rest of America not suck at dating. Hey, at least he's taking control on his self-admitted issues. Maybe watching him in a new environment after a few months of soul-searching could be the next step. Dean also appeared to be making some sort of cameo situation on one of Arie Luyendyk Jr.'s Season 22 group dates (alongside Alex Bordyukov) last month, so his on-camera ship probably hasn't sailed just yet.
Dean was on some of Bachelor Nation's shortlist for the next Bachelor spot, even though opinions may have changed throughout BIP's run. "If you watch two episodes of Paradise, you'll see very quickly why I'm not the Bachelor this year," he told Entertainment Tonight. "I just don't think I'm ready for it," he had previously explained to E! News. But The Bachelor Winter Games seems like it's a lot less pressure, so maybe he's ready for that challenge. We're not really that clued into his athletic prowess, but we do know he's played games when it comes to relationships. We kid. We kid. It looks like he's working on all that, and maybe his quest to be a better dater will come through if we see him on our screens come February.
Now excuse us while we sit tight for more casting notices. Mike Fleiss and ABC, we're waiting.