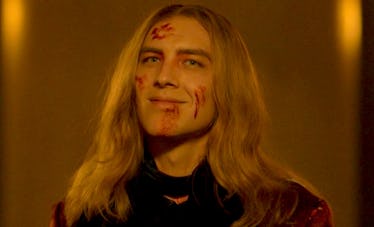 'AHS' Fans Think Ryan Murphy Just Revealed 3 Actors Who Will Star In Season 9
FX
American Horror Story: Apocalypse may have just ended last week, but fans of the franchise are already looking for clues about next season. And showrunner Ryan Murphy may have just dropped a big one. Although AHS is known for bringing back a number of familiar faces each season, fans can never be sure about which actors will star in each new story. Apocalypse proved that by bringing in AHS newbie Cody Fern for the lead role of antichrist Michael Langdon. Now, fans are wondering will Cody Fern be back for AHS Season 9. Ryan Murphy's latest Instagram post may have just confirmed who will star in the next season of the show.
Since each new season of American Horror Story jumps times and locations to tell (mostly) completely separated stories, fans never know what scary new characters Ryan Murphy has dreamed up. But we do usually know some of the actors that he will cast no matter what the season is about. Evan Peters and Sarah Paulson have both starred in every single season of American Horror Story, so it is a safe bet that they are a lock for the upcoming Season 9 as well. Lily Rabe and Frances Conroy have appeared in every season except one, and other Murphy favorites like Jessica Lange, Denis O'Hare, Kathy Bates, Angela Bassett, and Cheyenne Jackson have also popped up in at least half of the seasons.
While any number of these perennial AHS stars could likely appear in the next season, Ryan Murphy's first possible hint at who may helm the mysterious Season 9 points to three actors we have actually not seen too much of in AHS. After the Apocalypse finale aired, Murphy posted a photo of Cody Fern, Darren Criss, and Finn Wittrock to Instagram, writing that he is "cooking up something good for these three..." Um, could that "something good" possibly be Season 9 of American Horror Story, perhaps!?
All three actors have appeared in past seasons of American Horror Story, but have definitely not been as prominent in the franchise as other stars who have appeared in a bunch of past seasons. Finn Wittrock had a lead role as the demented Dandy Mott in Freak Show and then went on to nab guest roles in Hotel and Roanoke, and of course Cody Fern helmed the recent Apocalypse season as the antichrist Michael Langdon. Darren Criss has the most limited AHS history, having only appeared in a two-episode guest spot on Hotel.
But although the three have not been in as many AHS seasons as other actors, they did just recently helm Ryan Murphy's other anthology series American Crime Story. Darren Criss starred in The Assassination of Gianni Versace as Versace's murderer Andrew Cunanan, and both Cody Fern and Finn Wittrock starred opposite him as Cunanan's past lovers/victims David Madson and Jeffrey Trail.
Of course, since Ryan Murphy did not clarify what he was working on for the three actors, we cannot be sure that it is about American Horror Story. Murphy could also possibly be talking about an upcoming season of American Crime Story, or since inked a huge Netflix deal earlier this year, he could be working on an entirely new series altogether. We will have to see what happens when more details about American Horror Story Season 9 start coming out.