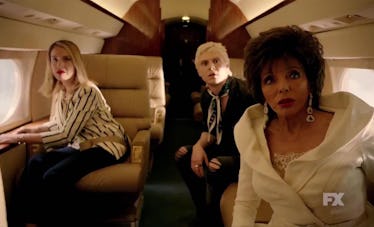 'AHS: Apocalypse' Fans Are Convinced This New Character Will Become A Witch
FX
It has only been two episodes, but American Horror Story: Apocalypse has already hit fans with enough twists to make up an entire season... and the horror series still has more coming. We have yet to see any of the Coven or Murder House characters promised in the crossover season, and now fans have a new theory about how these fan favorites will change things up with our new protagonists at Outpost 3. The big question that fans are asking now is: Will Coco become a witch on AHS: Apocalypse? It looks like there could be a lot more to the spoiled socialite than meets the eye.
Spoiler alert: This post will discuss some plot details from the first two episodes of American Horror Story: Apocalypse. So far, we actually have not seen too much from Coco St. Pierre Vanderbilt, even though she is the sole reason that half of the Outpost 3 survivors are there. Leslie Grossman's vainglorious heiress was able to save her hairdresser Mr. Gallant (Evan Peters), Gallant's high-society grandma Evie (Joan Collins), and her assistant Mallory (Billie Lourd) thanks to her family's pricey reservations at the outpost. Since they have arrived, though, all we have really seen from Coco is her disgust at the dining situation.
But a whole different side of Coco St. Pierre Vanderbilt is coming our way very soon, it seems. Earlier this week, showrunner Ryan Murphy posted a photo of Coco dressed in all black and hanging out with the witches from Coven.
Yep — there Coco is, flanked by none other than Cordelia Goode, Myrtle Snow, Queenie, and Zoe Benson, along with three of the albino guards from Miss Robichaux's Academy. It also looks like AHS alum Cheyenne Jackson (who is confirmed to appear this season) is involved as well, perhaps as a warlock, if his clothing is any indication.
But of course, the big thing that this photo has fans thinking is that Coco may be inducted into the coven when the witches finally make their debut in Apocalypse. And Leslie Grossman definitely seems to be teasing a major change for Coco coming up, which could totally be the socialite realizing she has some dormant magical powers. She told TVLine that Coco may surprise us:
I know she's a strong flavor, but stick with her, because it gets interesting. She seems to be one thing, but you never know what she'll turn into.
Seeing Coco develop magical powers would certainly be a ton of fun, and you just know that she will get along with fellow rich socialite Madison Montgomery, who is also confirmed to return with the coven. But when can we expect this witchy twist, if it does happen? It seemed like the witches were going to appear in Episode 2 when "Gold Dust Woman" began playing on the radio, but we were left still waiting for them. However, the Episode 3 promo and EP Tim Minear seem to be teasing that the coven is coming very, very soon, so be sure to tune into the new episode on Wednesday at 10 p.m. ET on FX.