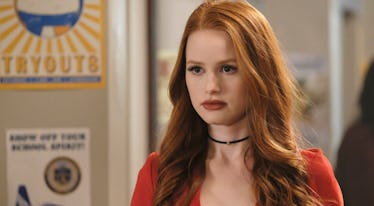 Cheryl Blossom Revealed A Major Secret On 'Riverdale' & It May Spark A New Relationship
CW
Do you guys remember when Cheryl Blossom was just a heartless jerk who bullied everyone at Riverdale High? Honestly, I barely do! I mean, sure, she is still just as ruthless and viper-tongued as ever, but we have seen the heart-wrenching vulnerability underneath her tough exterior so much more in this season of Riverdale, and never was that more evident than in Wednesday's latest episode. The show's resident mean girl opened up in a major way, and now fans are all asking the same question: Will Cheryl Blossom and Toni Topaz date on Riverdale? It is a possible relationship that nobody saw coming, but now it looks like Cheryl and Toni could be Riverdale High's next "it" couple. Spoiler alert: Don't keep reading if you have not watched Riverdale Season 2 Episode 14 "The Hills Have Eyes" yet.
While Riverdale's core four were off hooking up with each other in a cabin in the woods in Wednesday night's new episode, the B-team of characters — namely Cheryl, Kevin, and Josie — were all dealing with romantic drama back in town. Oh, and they were also verryyyy heavily advertising that new movie Love, Simon... like, it got super distracting. But in the parts that weren't sponsored content, we saw Josie struggle to come to terms with her mother's affair with Sheriff Keller, and Kevin dealt with being Moose's dirty little secret that he keeps hidden from his girlfriend Midge. It was Cheryl who stole the show, though. After spending most of the episode lashing out at Toni Topaz, she ended up actually revealing her big secret to Toni in the end.
After Toni offers her friendship and the apparently magical powers of Love, Simon take effect, Cheryl opens about her sexuality, telling Toni that her only real romantic relationship was with a childhood friend named Heather. She goes on to say that when her mother caught her and Heather sleeping in the same bed, she reprimanded Cheryl, and that's why she has repressed her sexuality for all this time. Toni affirms Cheryl, offering her some wonderful words of support. And then the two hold hands, and it really does feel like the start of something.
Yes, Toni very likely could just be being a supportive friend, but these scene does seem to hint that there might be a romantic connection between Cheryl and Toni. After all, Toni was following Cheryl around pretty much all of the episode — sounds like a crush to me. It is looking like we may be seeing Cheryl and Toni start a relationship pretty soon. I don't know about you, but I'm totally team Teryl!
But wait — let's not forget that there is someone else that Cheryl Blossom has her eyes on. Remember back when we were in the thick of the Black Hood mystery, and we saw that Cheryl was stalking Josie? Yeah, you might have forgotten because the show seems to have totally dropped that storyline in the seven episodes since it happened, but that was the first real hint that Cheryl may be sexually attracted to women. Now that Cheryl is opening up about her sexuality, we might finally be learning more about her secret obsession with Josie. In fact, maybe Cheryl will be pursuing Josie instead of Toni.
The one thing that's for sure is that we will be seeing a lot more of Cheryl Blossom's vulnerable side, and learning more about why she puts on such a tough exterior. Hopefully, she will also find a healthy relationship that will help her deal with her clearly toxic home life and upbringing. Whether that relationship is with Toni, Josie, or someone else, we'll just have to wait and see.