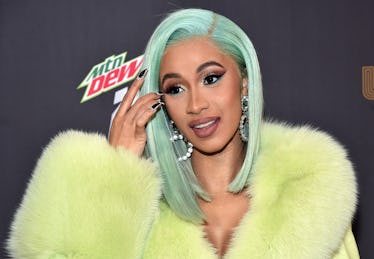 Cardi B Is In Talks For Her First Major TV Role In A Reboot Of An Iconic '90s Show
Theo Wargo/Getty Images Entertainment/Getty Images
Cardi B is one of the most famous rappers on the planet. But could she be a famous actor as well? Well, if it were up to Fran Drescher, then she would be! In a recent interview with Extra, Drescher revealed that she has a keen interest in the 26-year-old rapper and is eyeing her for a possible reboot of the hit show The Nanny. Actually, Fran Drescher's comments about Cardi B will make you feel super nostalgic for the '90s and for The Nanny in general.
In the interview with Extra, which was published on Tuesday, Oct. 16, Drescher revealed that Cardi got her "creative juices" flowing.
"She started it because she kind of paid homage to me, putting our pictures side by side when she was wearing animal print and it was me in animal from The Nanny and that just went viral," Drescher said. "That got my creative juices going."
Drescher is also talking to Cardi's reps about casting the superstar in a reboot of the show that made Drescher an icon.
"I'm talking to her representation," she explained. "It's really getting me excited. It's fresh and it could be super fun."
So, what role would Cardi play on a reboot of The Nanny? Drescher's daughter, of course! Thanks to Cardi's outlandish style, hilarious attitude, and unique voice, Drescher thinks the rapper would be the perfect fit to play her daughter.
"She's got a funny voice, too," Drescher said. "What kind of a great mother/daughter would we be? Amazing, I think."
While the Cardi B connection is relatively new, Drescher was in talks for a reboot of the show as far back as June. At the time, she told Entertainment Tonight that something was in the works. "We're talking about it. Peter and I are talking about it," Drescher said at the time. "We're working on a very big project. It's going to be very exciting for the fans, but I'm not at liberty to announce it yet."
Drescher introduced the idea of a sitcom with Cardi in an Oct. 11 interview with PeopleTV's Chatter, even though networks don't seem to be interested at the moment.
"I'm totally down with doing it," Drescher explained. "I don't know what is going on with some of these networks out there because they do not seem to be hip to the fact that there's an obsession amongst millennials for the show and moi!"
As for who would play Cardi's dad on the show, Drescher has some ideas about that, too.
"Not from me and Mr. Sheffield, I would have to have a man of color. I'm down with the brothers," she said.
Fans are very much interested in a reboot apparently because they've frequently compared Cardi to Drescher on social media.
So, Cardi and Drescher definitely have support from the fans to get this project off the ground. And honestly, I think it would be a really fun and refreshing take on such an iconic show. Drescher and Cardi would be hilarious together.
I truly hope a reboot of The Nanny with Cardi starring in it actually happens. I'd definitely watch it. Would you?