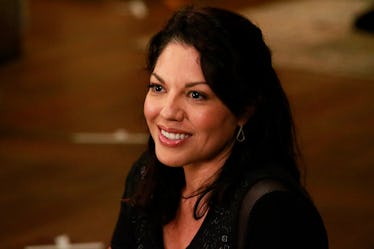 Sara Ramirez Has A Message For 'Grey's Anatomy' Fans About Callie's Possible Return
ABC
Ellen Pompeo hasn't been shy about the possibility of Grey's Anatomy ending after her two-year deal runs out following an unconfirmed Season 16. If this is the case, the ABC drama could take a nostalgic route and bring back former, living characters for one last trip to Grey Sloan Memorial. The show hasn't seemed to hint at old fan favorites returning soon, but will Callie be in Grey's Anatomy Season 15? Sara Ramirez says she's free for a guest stint whenever ABC needs her.
The Season 14 departure of Callie's longtime love Arizona (Jessica Capshaw) would have been the most logical plot to weave Callie into, as Arizona left Seattle to live with their daughter in New York near Callie. The end of the season even hinted at flirty text messages between the former spouses, igniting hopes for Calzona to live on again. While fans had their fingers crossed for a brief look at the two's reunion, Grey's Anatomy creator Shonda Rhimes revealed that producers couldn't book Ramirez for the show because of her work on CBS's Madam Secretary.
Ramirez, who left Grey's Anatomy in 2016 after 10 years of playing Callie, has finally spoken about this relationship between CBS and ABC. In a tweet suggesting there's definitely some kind of miscommunication between Ramirez and Rhimes, Ramirez wrote, "[CBS] has been nothing but gracious and generous to me. They are open to Callie coming back! The ball is in [ABC's] court."
Longtime viewers of Grey's Anatomy (and let's face it, aren't we all at this point?) would certainly love a surprise return of Callie, whose storylines focusing on her bisexuality solidified the series' strong promotion of LGBT rights and relationships. Now with Arizona on the East Coast with her, Callie returning to Grey Sloan Memorial on her own just doesn't seem right. If the series ends with a hospital anniversary celebration or a wedding (we're looking at you, Meredith), Calzona returning in full force is a must.
In the past, Ramirez shared that she was staying in touch with Rhimes, telling Entertainment Weekly in late 2017, "When Shonda and I last spoke, we agreed to keep the conversations going, and she knows I'm open to keeping those conversations going." Maybe Ramirez should make sure Rhimes actually knows CBS is cool with her leaving for a few episodes. It might be too late for Callie to pop up this season, but the possible sixteenth season is an open book.
Although the departures of Callie and Arizona definitely inspired a shift in certain content on Grey's Anatomy, Season 15 will introduce the show's first gay male surgeon, Dr. Nico Kim (Alex Landi). For now, the character is only in a recurring spot, but focusing more on gay men will be a change of pace for the show. With the end of the drama possibly in sight, a romantic relationship between Nico and someone else might not have the time to flourish and reach the legendary status of Calzona. All the more reason to welcome back Callie before the Grey Sloan Memorial staff hang up their scrubs for good. We'll have our eyes peeled for any news about Dr. Torres picking up a surprise shift in the show's future.
Season 15 of Grey's Anatomy premieres on Thursday, Sept. 27, at 8 p.m. ET in a two-hour episode on ABC.