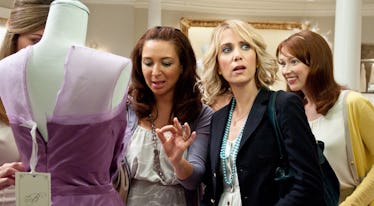 The 'Bridesmaids' Director Just Weighed In On The Possibility Of A Sequel
Universal Pictures
It is hard to think of a more gut-busting, inventive, and ultimately heartwarming modern comedy than Bridesmaids. The 2011 smash launched Kristen Wiig and Melissa McCarthy from memorable television work to becoming two of the most sought after comedic actresses for the big screen, and kicked off director Paul Feig's welcome run of big-budget female-led comedies. For years, fans have wondered, will there be a Bridesmaids sequel? Well, now Paul Feig is finally answering that big question, and sadly, fans will probably not be too happy with his response.
Paul Feig spoke with Variety at the premiere of his new movie A Simple Favor, and the topic of Bridesmaids came up. When asked whether he would ever consider directing a sequel to the hit wedding comedy, Feig said that he does not see it happening. He pointed out that a sequel would probably have to put Kristen Wiig's character of Annie Walker through another life crisis, which could verge on torture since Annie was so likable:
I don't know if there will be one honestly. That movie worked so well because it was about a woman having a crisis in her life and fixing it. So you don't want her to have another crisis.
So, unfortunately, it sounds like we won't be seeing our favorite Bridesmaids characters come together again for a sequel. But at least Paul Feig's reasoning for wanting to avoid a sequel makes sense: Bridesmaids ends on such a high note for Annie after putting her through the ringer in every aspect of her life. Having to see her go through even more crises would not be fun. Plus, nearly everything is getting a sequel, spinoff, or reboot these days, so it is actually pretty refreshing to have one beloved movie just stay one of a kind.
Bridesmaids remains one of the most groundbreaking comedies of the past decade. It is still Judd Apatow's best performing movie at the box office, boasting an audience that Universal Pictures reported to be 67 percent women and 63 percent people over 30 years old, a notable shift from the young male demographic with which Apatow's films had been most closely associated. That massive box office success, paired with two Oscar nods (a rare get for any big-budget, raunchy comedy film) helped to pave the way for more female-led comedies to make it to the big screen. Many of the most notable of these female-led comedies even came from Paul Feig himself, who went on to continue his partnership with Melissa McCarthy on movies like The Heat, Spy, and Ghostbusters.
But as Paul Feig himself has made clear, fans should not expect a Bridesmaids 2 to be announced anytime soon. That doesn't mean you won't see the Bridesmaids team all over the big screen, though. Feig's latest movie A Simple Favor, starring Anna Kendrick and Blake Lively, comes out on Sept. 14, and Melissa McCarthy is currently helming the puppet-filled The Happytime Murders and getting serious in the drama Can You Ever Forgive Me?. And Kristen Wiig is jumping into the DC Universe as the supervillain of the upcoming Wonder Woman sequel.
If you want to get the full Bridesmaid magic, though, you're just going to have to keep rewatching the original.