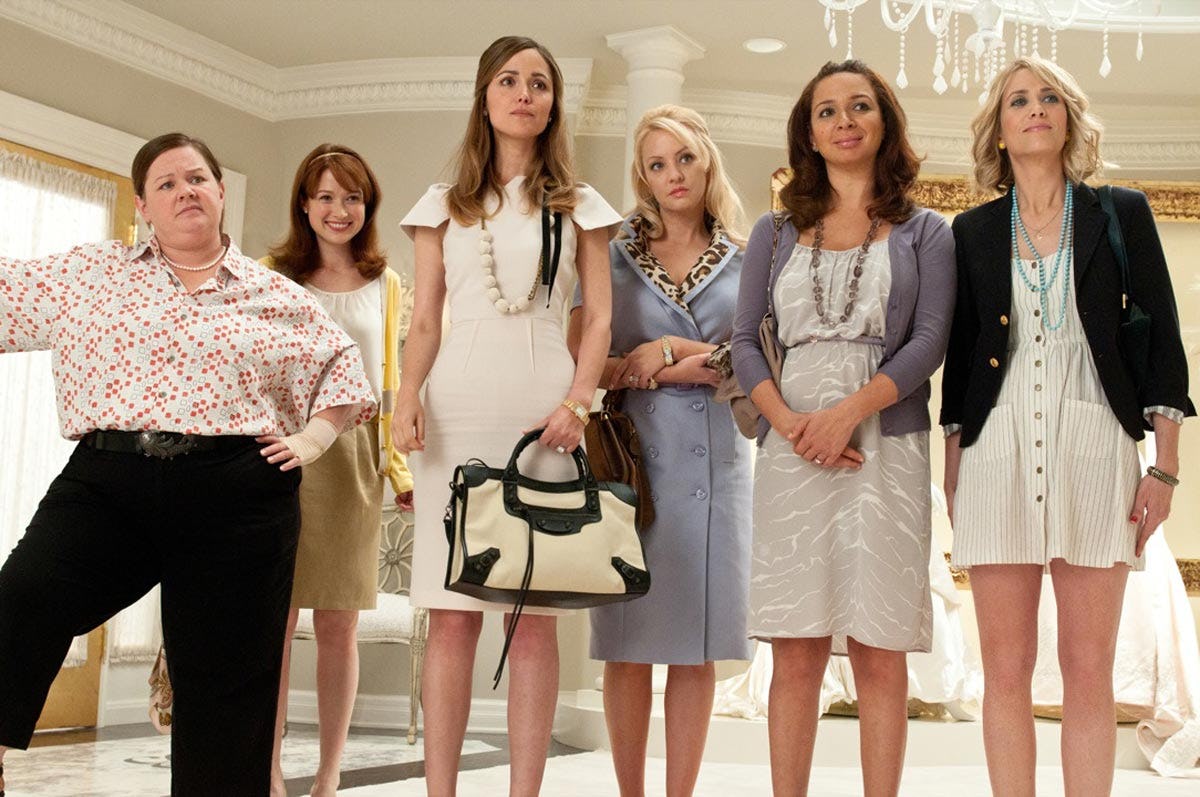 There Was A Mini 'Bridesmaids' Reunion At Sundance Film Festival & It Was Everything
Universal Pictures
On Friday, Jan. 19, I made my way to Park City, Utah, to join the festivities at the 2018 Sundance Film Festival. First on the list? A Deadline and Stella Artois panel with the cast of Juliet, Naked. The two stars of the film, Rose Byrne and Chris O'Dowd, go way back. Come on, you know what I'm talking about. Do the names Helen and Officer Nathan Rhodes ring a bell? Yup, Rose Byrne and Chris O'Dowd had a mini Bridesmaids reunion at the Sundance Film Festival and it was everything. The two even brought up the rom-com during a live Q&A with the audience.
Byrne and O'Dowd sat down with Director Jesse Peretz, Producers Jeffery Soros, Albert Berger, and Ron Yerxa to discuss the making of Juliet, Naked. The film tells the story of Annie (played by Byrne) and her complicated romance with boyfriend Duncan (played by O'Dowd), as well as Duncan's obsession with musical artist Tucker Crowe (played by Ethan Hawke). Byrne and O'Dowd elaborated on their comedic performances during the panel and spoke about the role improv plays in the film.
When asked about if the actors prefer improvise over following a set script, O'Dowd commented, "I like a bit of both... it's great if you go in thinking the script is ready, so it's not sudden pressure of 'open the gates and let them go!'" He added, "Rose is so quick on her feet, and I kind of knew about that before, so whenever we got to do it, it was really fun."
Byrne spoke about her experience with improv as well. She explained, "It's interesting, when I first started doing comedies, it was all improv... really, really heavy improv, so for me it's always exciting to do something a little more ... in the script ... It is always nerve-wracking though ... People who make it looks effortless like Kristen Wiig and Seth Rogen."
The mention of Kristen Wiig inspired a reporter to ask O'Dowd and Byrne about their time on set during the filming of Bridesmaids, as well as what it was like to work with the cast.
O'Dowd admitted he didn't think the film would be "such a big thing" at the time. He shared, "I remember thinking it was kind of good, but because all of my scenes were with Kristen, I didn't see what you guys were doing, so when I saw it I was like f*cking hell."
That's pretty funny considering the film was a total success, earning a People's Choice Award and a Critics' Choice Movie Award for Best Comedic Film.
He continued to reminisce about his time on set and even called his Bridesmaids cast mates "intimidating." He said, "It's amazing, all of these brilliant character relationships scattered throughout it.. the story was fantastic ... But I remember being excited to work with such kind of great people. You could tell, suddenly everyone is very smart and way funnier than I am and it was intimidating."
Byrne chimed in to share her experience working alongside the hilarious Melissa McCarthy. She commented, "I remember trying not to laugh at Melissa McCarthy... I knew her from Gilmore Girls, but she's just such a nice, brilliant – I mean, the whole cast was – but I was just crying laughing, trying to keep it together."
Unfortunately Wiig, McCarthy, and the rest of the Bridesmaids cast didn't make the appearance we were all hoping for. Regardless, the 2018 Sundance Film Festival is already off to a great start.
If you happen to be in Park City, Utah, during the end of January, be sure to check out Byrne and O'Dowd's spectacular performances in Juliet, Naked.