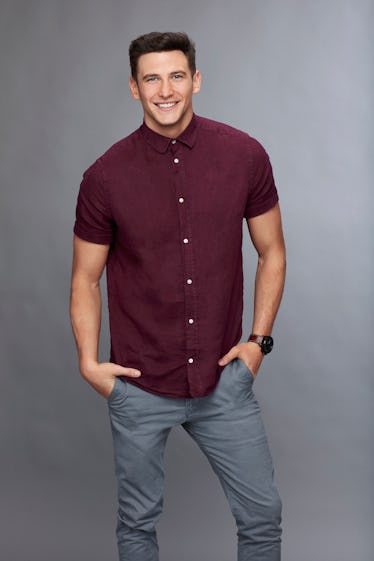 Fans Are Already Rooting To See Becca's Runner-Up As The Next Bachelor
ABC/Craig Sjodin
Now that another Bachelorette season is about to pass fans by, it's time to start focusing on the franchise's upcoming chapter. No, not Bachelor in Paradise. The one after that. The one that started it all. The question on everyone's minds right now (aside from is Blake OK) is quite obvious: Will Blake be the next Bachelor? The sensitive Colorado sales rep seems like the natural choice for the gig and fans are clearly open to the possibility.
It's hard to watch Blake's heart get broken, especially considering viewers were aware he had a difficult breakup in the past. Blake and Becca had a connection since their 1-on-1, the very first of the season.
"After my first date with Blake I started to feel a future with him. I am in love with Blake and I can't imagine not having Blake in my life," Becca gushed early on.
From then on the couple seemed pretty solid. Blake was a clear frontrunner and Becca even admitted she truly loved him. The Bachelorette explained in her People blog following Week 7:
I knew if what Blake was feeling for me was like what I was feeling for him, then that third rose was definitely going to be taken after the night. To hear more about his family life and how difficult his parents' divorce had been for him tugged at my heartstrings. I'm glad to have made him feel comfortable and at ease to share that. When he told me that he loved me, I felt like my heart was about to leap right out of my chest. What he didn't know was I was starting to feel the same exact way about him.
Becca's love for Blake didn't fade away, but she had to listen to her gut and make a decision about who she wanted to spend the rest of her life with.
"What it's going to come down to is just a feeling in my heart," Becca admitted during Monday's finale leading up to their emotional gut-punch of a breakup.
"With Blake he is so steady, he is so solid. He's always been open and vulnerable and I've never really had that in a relationship," she also stated, right before saying the "hardest goodbye" she's ever gone through. And it was tough to watch.
If there is a silver lining to all this heartache, it's that Blake now has the potential opportunity to look for love again as the show's leading man. Fan fave finalists have taken on the role in the past — Arie, Nick Viall, and Jason Mesnick were all runners-up who went on to eventually hand out roses. The formula is pretty standard at this point.
Of course, Jason, Wills, and Colton are all other viable candidates. Even Chris Harrison offered up his insider thoughts on who he thinks could nab the job. The host weighed in on The Dan Patrick show last week:
It's always 'who did America last see crying in the back of a limo?' That's usually who has the groundswell of support. So right now it's Jason, but next week you're going to see somebody else heartbroken and devastated. Maybe they'll take over.
Hmm. Now that it's officially "next week," is that a hint of what's on the horizon? Hopefully Bachelor Nation won't have to wait too long for an answer.