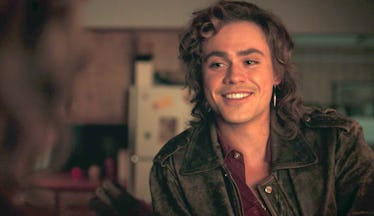 'Stranger Things' Fans Are Praying Billy Returns In Season 3, But Will He?
Netflix
The second season of Stranger Things introduced a bunch of new characters to Hawkins, Indiana, but even with a new horde of evil, trans-dimensional monsters threatening the town, none of the newcomers were more mysterious and scary than Billy Hargrove. The abusive teenager may have been a horrible person, but he actually grew to become one of the most talked about characters among fans of the show. And along with that newfound popularity comes the question: Will Billy be in Season 3 of Stranger Things? Nothing is known about the upcoming season yet, but it sure seems like Billy must be coming back to Hawkins next year, right? Let's go over everything we know.
Obviously, it is much too soon for anything about Season 3 to be confirmed since Season 2 only just premiered, but we can speculate about returning characters based on what we saw from them this season. When it comes to Billy, there's just so much about the character that still needs to be explored at the end of Season 2. Throughout the season, Billy remains a mysterious, ominous presence. He makes vague but clearly abusive threats to his younger stepsister Max whenever he drives her around town, hell-bent on her not making any friends in town. It's not until the very end of the season that we get a glimpse of Billy's home life that most likely instilled the cycle of abuse in him.
Because of all the questions we still have about Billy, it seems clear that the show will bring him back for another season. Plus, his sister Max is a bona fide part of the Stranger Things gang now, so of course she and her family are sticking around. Here are some of the pressing issues we need the third season of Stranger Things to flesh out about Billy:
His abusive home life
The biggest revelation about Billy, which is left mostly unexplored by the end of the season, is the fact that his father is abusive. Max confides in Lucas about her physically abusive stepdad, and then we actually see him threatening Billy in the penultimate episode. It's clear that Billy became so violent because of how his father raised him, but we've still only seen a brief glimpse at Max and Billy's parents.
His sexuality
One scene that is causing a lot of discussion about Billy is a Top Gun-esque moment in the high school showers between Billy and Steve. The quick scene involves Billy complimenting Steve's looks and taking a glance downwards, which many viewers interpreted as flirtatious. Of course, it also could have been some twisted part of his methods of bullying Steve even more. Whatever that scene meant, it has Stranger Things fans wondering if there's more to Billy's sexuality than we've seen in Season 2. Maybe that's something that will be explored next season.
His possible racism
Billy's motives for commanding Max to stay away from the other kids in Hawkins are still up in the air as well, but most questionable is how inexplicably irate he gets around Lucas. As Max begins hanging out with Lucas more and more, Billy gets increasingly violent and angry, to the point of finally picking him up and threatening him before his big fight with Steve. Obviously, Max got closer to Lucas than any of the other kids, so maybe that was why Billy seemed to hate him the most, but there's also the underlying possibility that Billy's anger is racially motivated. That is another big thing we may learn more about in the third season.
Stranger Things actually hasn't been officially picked up for a Season 3 yet, but it's an incredibly safe bet to assume it will be soon. And when it does, expect to finally learn what's going on with Billy.