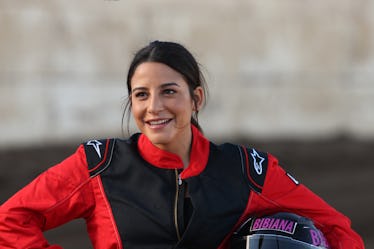 2 Fan Favorites From Arie's Season Of 'The Bachelor' Are Confirmed For 'Winter Games'
Week 3 of The Bachelor was a bit of a bloodbath. Lauren S. and Annaliese were both sent home outside of the rose ceremony, and, although they seemed very sweet, they both had personalities that were too awkward for reality TV. However, the loss of Bibiana was truly a tragedy. Who else is going to call out The Bachelor's ridiculousness? Although I'm rooting for her to rule Paradise this summer, Bachelor Nation has to ask: Will Bibiana be on The Bachelor Winter Games?
Despite the release of a trailer, we know very little about how Winter Games will run. Fans have assumed that it will be like Bachelor in Paradise, but with the addition of physical challenges and having to "win" dates rather than being given one randomly. If you've watched the franchise long enough, the concept probably reminds you of the OG spinoff Bachelor Pad.
I never even considered the new show adding on more contestants every now and then, as is done on Paradise, but The Bachelor Twitter account has confirmed that at least two fan favorites from Arie's season will join Winter Games. In a post following the broadcast of this week's episode, the show revealed that both Bibiana and Lauren G., who was eliminated in Week 2, will compete on the spinoff series. Hallelujah!
A preview of Bibiana's time on Winter Games shows her ice skating with a Canadian contestant, who most resembles 31-year-old Benoit. Get it, girl! However, the clip immediately cuts to her crying, which suggests that the plan for romance doesn't exactly go well for Bibiana. Well, that's what Paradise is for. Having seen her confront Krystal and calling out why the intense wrestling group date was so wrong, I think Bibiana is a strong lady who definitely deserves her shot at love.
Bibiana shared the exciting news on her own Twitter, remarking on how quickly things turned around for her.
Looking back, there were subtle hints about Bibiana's involvement in the series. Former Bachelor contestant and Winter Games participant Ashley Iaconetti, who runs a Bachelor-focused podcast with Season 20 Bachelor Ben Higgins, has tweeted support for Bibiana since the beginning of the season. You could argue that Bibiana quickly grew on Ashley because of their similar looks and willingness to be real, but now it's clear that the two bonded while filming Winter Games together.
It's not a Bachelor spinoff if Ashley isn't crying, and although she doesn't have as dramatic of a cry face, Bibiana seems to be destined to become Ashley's sobbing companion.
Before the latest episode aired, she also appeared in an interview with YouTube feature Will You Accept This Ride?. Bibiana spilled even more clues about her future in the franchise:
[The Winter Games are] amazing. I got to meet everybody. I suck at winter sports. You get to live with people, so you're waking up and hanging out with them, so you're not fighting for time. It is like Paradise, but even better because every day you get to go and you have competitions.
Does she find love? Bibiana played coy about it in the interview, but confirmed that you literally have to compete for a date card. She even joked about having "Deanie babies" with fellow contestant Dean, who fell from his Bachelorette glory after getting busy with two different women in Paradise last year. Bibs, please steer clear of Dean.
Whether or not she emerges from Winter Games with a man, Bibiana's advice for dating is truly legendary:
Just be yourself. Right? I mean, everybody says it but there's so many times where you filter who you are. For instance, in my past, I used to kind of conform and adapt and I think, as women, we tend to just adapt so easily and guys are just stuck in their ways...I need to just own who I am from the beginning and be unapologetically myself and not give a crap.
Girl, PREACH!
At this point, I'm so excited for Bibiana's return and the chance to learn more about Lauren G. on Winter Games. The Bachelor Winter Games premieres on Feb. 13 at 8 p.m. ET on ABC.