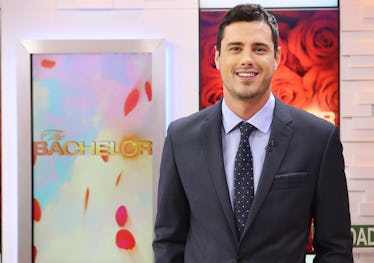 Ben Higgins Just Revealed Whether He'd Be 'The Bachelor' Again & Wow
ABC/Fred Lee
At this point, Ben Higgins is basically a career Bachelor participant. After appearing on Kaitlyn Bristowe's Bachelorette season, the fan-favorite became the Bachelor in Season 20. Ben's relationship with winner Lauren Bushnell seemed to take him out of the Bachelor franchise for good, but when he returned to Bachelor Winter Games after their relationship ended, it became clear that he wants back in. Will Ben Higgins be the Bachelor again? Get excited, Bachelor Nation, because it's definitely possible that you'll be seeing the baby-faced entrepreneur again soon.
In a recent interview with Entertainment Tonight, Ben addressed the question that has been plaguing fans since he so abruptly left Bachelor Winter Games. When asked if he'd ever return to The Bachelor, Ben said that even though he hasn't had concrete discussions about it with producers, it's not entirely off the table:
I think it was always going to be a discussion. I have a great relationship with the show. They've been good to me ... If they were ever to want me to go back on the show – I don't know if they would or not – but they would know that, hey, this is a better relationship than the last time. It's not me coming into it blind scenario where I don't know anything. It's a conversation of, 'Is this really right for you right now?' And we haven't had those conversations yet but we always stay in touch.
OK, so it's definitely not time to start making shirts with Ben's face on them, but it's not time to despair, either. There's more than a little hope in Ben's statement — particularly the part where he says that he's remained in touch with the show since his time on The Bachelor ended. Clearly, that line of communication is always open, and if Ben were to pick up the phone and say, "Yup, let's do the damn thing," (sorry Becca) you know ABC would be ecstatic. Essentially, it's not a question of if Ben will be the Bachelor again, but when.
If Ben were to go on The Bachelor again, he told ET that he wouldn't change anything about the experience — even though his relationship with Lauren ended in heartbreak:
Honestly, I was so happy with how The Bachelor went for me this time. I could not feel more confident in how it ended and how the process went. There was obviously tough scenarios and that's going to happen no matter what. Breakups are going to happen on that show. I would probably have held back at the end from being so open and honest.
So maybe there's one thing he would have changed about the experience. He continued:
I probably wouldn't have said [I love you] so many times! I would have kind of pulled back a bit. But, outside of that, I don't have any regrets from that show. I had an amazing relationship with somebody that I still care a ton about. I can't picture a better outcome other than maybe a marriage. But, for me I would hope I'd treat it the same way.
Aww. Bachelor Nation will welcome you back any time you're ready, Ben.
If Ben is gunning for a spot on Season 23 of The Bachelor, he'll have to face some stiff competition from Becca's group of amazing Bachelorette dudes. Fans got a chance to meet some of the men competing for Becca's heart during the After the Final Rose ceremony, and if these guys are any indication, choosing just one will be tough for the Bachelorette. With a group of guys this amazing, it's totally possible that Bachelor Nation could fall in love with a new baby-faced cutie and insist he take on the Bachelor crown.
Becca's season of The Bachelorette premieres on Monday, May 28, so tune in to see whether one of these guys can challenge Ben's Bachelor spot. Until then, I'll be stalking Ben's Instagram, because it's just so damn fun.