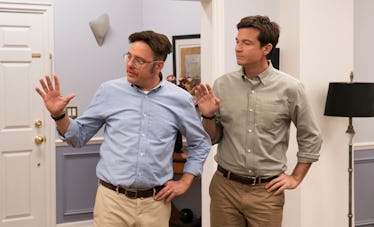 'Arrested Development' Season 6 Probably Won't Happen, According To David Cross
Netflix
Arrested Development may have been saved once, but it does not sound like its Netflix revival is going to last much longer. The revived series is currently in the middle of its fifth season (which was split into two parts with the first half having already aired), and according to star David Cross, the series will likely come to an end when Season 5 does. So, for fans still wondering will Arrested Development Season 6 happen, it unfortunately is not looking too promising.
David Cross spoke about the future of Arrested Development on a recent episode of the Late Night With Seth Meyers Podcast, and he did sound very hopeful about Netflix picking up the cult classic comedy series for another season:
I've learned to say "Never say never," but I can't see it happening again, I think for a number of reasons.
Those "number of reasons" are pretty clear to fans who have been following the string of disasters that have followed the cast ahead of Arrested Development's Season 5 release this past summer. At the end of 2017, Jeffrey Tambor was accused of sexual misconduct by two women who worked with him on his Amazon series Transparent, which led to Tambor announcing his departure from the show a few days later. However, filming for the fifth season of Arrested Development had already concluded a month prior to those accusations, and Netflix confirmed that Tambor's character George Bluth would still appear in the new season.
Ahead of the Arrested Development Season 5 premiere, the New York Times conducted a roundtable interview with much of the show's central cast and brought up the allegations against Jeffrey Tambor. Jessica Walter, Tambor's on-screen wife, said that Tambor had verbally abused her on the Arrested Development set, but that she feels she has to let it go. However, co-stars Jason Bateman and David Cross were widely criticized for their responses in that interview, which many read to be overly permissive of Tambor's behavior. Both Bateman and Cross issued apologies shortly after the interview was published.
The first half of Arrested Development Season 5 aired in the midst of all that, and it made the possibility of another season with the cast seem very shaky. Not to mention, Portia de Rossi had announced she retired from acting and would only appear in a few of the new episodes, and faith in the once-beloved cult classic had wained among even hardcore fans after the first season of the Netflix revival (Season 4) split up the cast into different, individual-focused episodes.
Although a sixth season is not looking too promising, at least according to David Cross, Netflix has yet to either officially pick up or cancel Arrested Development. Fans can probably expect to get an official word on whether or not Arrested Development will continue around the time that part two of Season 5 drops. The eight-episode second half of the show's fifth season is slated to premiere on Netflix sometime before the end of 2018.