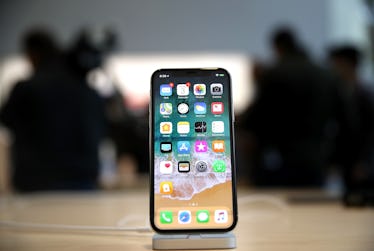 Here's What To Know About How Apple's Latest Update Will Affect Your iPhone Battery
Justin Sullivan/Getty Images News/Getty Images
Remember last year when Apple got into hot water with customers after reports that the tech company was slowing down iPhone batteries? Well, the concern is emerging again and it's causing some iPhone users to wonder, "Will Apple's iOS 12.1 update slow down my iPhone?" Depending on which phone you have, you might expect to see your iPhone slow down a bit. Before you hang your head in despair, keep on reading. This isn't the end of the road for your iPhone just yet. Here's what to know about how Apple's iOS 12.1 update will affect your iPhone battery.
The controversial performance management feature (also known as throttling) is used to prevent unexpected device shutdowns is included in Apple's iOS 12.1 update, which was released on Tuesday, Oct. 30. Last year, Apple previously said it would expand the performance management feature to other products in the future, as reported by The Verge. It seems the tech company is holding true on its promise by bringing the throttling function to the iPhone 8, iPhone 8 Plus, and the iPhone X, according to Apple's iPhone battery and performance support page.
According to the recently updated support page, "Starting with iOS 12.1, iPhone 8, iPhone 8 Plus, and iPhone X include this [performance management] feature." Additionally, this feature "may be less noticeable" on the iPhone 8, iPhone 8 Plus, and iPhone X, and the support page explains that is "due to their more advanced hardware and software design." So, if you've got one of these iPhones and aren't thrilled about the throttling news, you can take a deep breath. Hopefully, the performance management feature won't become an issue given the new and improved hardware of these iPhones. Apple's support page also noted that the throttling function will be "less noticeable" for iPhone 8 models and later. Phew.
The iPhone XS, XS Max, and XR were not mentioned as having this new performance management feature with iOS 12.1, but you can see your phone's "Peak Performance Capability" under "Battery Health." Elite Daily reached out to Apple to confirm whether or not iPhone XS, XS Max, and XR have the performance management feature, but did not hear back at the time of publication.
Describing how the performance management feature prevents your iPhone from shutting down, the Apple support page explains that earlier iPhone models (iPhone 7 Plus and earlier) were already being managed by iOS "to prevent the device from unexpectedly shutting down so that the iPhone can still be used." That came in the iOS 11.3 update.
Even still, some iPhone users are already voicing their complaints about the iOS 12.1 update as it relates to perceived battery life. These recent tweets show that a handful of iPhone users are noticing that the device's battery life appears to drain faster now that they have installed the latest software update. As Apple notes on the support page, the performance management feature works by assessing a combination of factors like device temperature and the battery's "state of charge." Depending on what those are for your device, iOS "dynamically manages" what peak performance your device is capable of. The "level of perceived change" of device speed really depends on how much performance management is required.
It's important to note that, over time, all phone batteries start to deplete. Like any device you use day in and day out, you can expect the performance quality to dip down. Of course, it won't be as great as it was at first, so, regardless of throttling, you should be prepared to replace your phone's battery at some point during its lifespan. If you're one of the lucky few that never have to do that, then color me impressed.
I will say that, for the most part, the iPhone is a sturdy mobile device that offers state-of-the-art technology, and frankly makes my life a heck of a lot easier. You can also stay up-to-date with the current standing of your battery in the "Battery Health" feature found in your iPhone Settings. Here, you can choose to turn off the performance management feature, aka the throttling of your battery to prevent an unexpected phone shutdown.
If you are thinking about skipping out on the iOS 12.1 software update, I wouldn't recommend it. The battery issue aside, you are subjecting yourself to missing out on some pretty awesome new features like more than 70 new emojis, Group FaceTime for you and up to 32 of your closest friends, as well as Portrait mode with Depth Control.
Additionally, it's best to embrace the latest software update even if that means risking your iPhone's battery performance. Software updates often come with important security and performance enhancements. Fingers crossed that the throttling feature really won't have a that big of an impact on iPhone 8 models and later, just like Apple says.