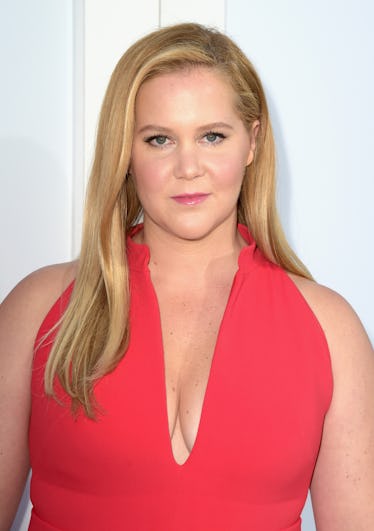 Amy Schumer Just Revealed Whether Or Not She'll Have Kids With Chris Fischer
Kevin Winter/Getty Images Entertainment/Getty Images
Have you heard? Amy Schumer is in love. Oh, and married. Oh, and kind of ready to have kids. It's a whole thing. The I Feel Pretty star stunned fans in mid-February when she revealed she was sort-of secretly wed celebrity chef Chris Fischer in a private California ceremony. Since then, fans have been wondering — will Amy Schumer have kids with Chris Fischer? Based on her conversation with pal Ellen DeGeneres, the answer is yes.
Schumer popped by The Ellen DeGeneres Show on Wednesday, April 18 to talk over her whirlwind romance and where she stands on the whole making-a-family thing. According to her conversation with Ellen, she and Fischer actually got engaged the morning of DeGeneres' famous 60th birthday party and were wed three days later. Apparently, Schumer and Fischer tried to tell their famous friends the exciting news at Ellen's party, but no one believed them.
Schumer said, "Celebrities are supposed to be quiet when they're getting married. We got engaged that morning, so we were going around [the party] and going, 'We're getting married!" DeGeneres said her wife Portia told her, "Amy kept telling everybody she was getting married..." to which Schumer responded, "everybody who would listen. The waiters, the valet."
It turns out she and Fischer were in a little bit of a hurry, considering they said their I Do's at an oceanfront property just 72 hours later. DeGeneres admitted she couldn't come to the wedding on such short notice, which seemed to be just fine with Schumer. In fact, a source told Us Weekly the wedding was all very "chill."
The insider confirmed,
It was thrown together last minute. Most of the guests found out the wedding was happening on Tuesday from a text message sent out by Amy on Sunday. It was like, 'Hey, this is happening. If you can make it, great. If not, no worries.' People were in and out all night. It was a gorgeous day. Everyone was having a good time.
So, does she have the same "let's do this thing!" attitude about kids? DeGeneres asked the question, and Schumer responded in the most Amy way possible. After having once dressed up as a baby on Ellen's show, the comedian confirmed she was seriously considering little ones of her own. She told Ellen, "Here's the thing, I have never wanted kids. And then, I saw myself as a baby on your show and I thought, 'Who am I to deprive the world of such a beautiful baby?'"
Schumer added, "Yeah, so I think we're gonna do it. Just use my genetics."
Despite everyone's obvious question marks about the speed of her relationship progression, Schumer seems unfazed. She told DeGeneres she and Fischer just knew, and she "locked it down." The couple apparently knew each other for about a year and lived together for five months before tying the knot. Schumer says she's liked being in one place since getting married and has enjoyed taking a break from touring.
It's also been exciting promoting her new film, I Feel Pretty, as a newlywed. Schumer told Entertainment Tonight she's "psyched" she "found a dude" and said, "[Fischer's] really supportive and excited for me, and I think he's really proud of the movie, too. And the message it sends."
If you guys haven't seen their wedding video yet, I HIGHLY RECOMMEND! I would personally love some hilarious little chef babies running around, but Amy hasn't called me in a while, so I don't know how much my personal opinion matters.
Guess I'll just keep my eyes on the ol' Instagram for any news.
Check out the entire Gen Why series and other videos on Facebook and the Bustle app across Apple TV, Roku, and Amazon Fire TV.