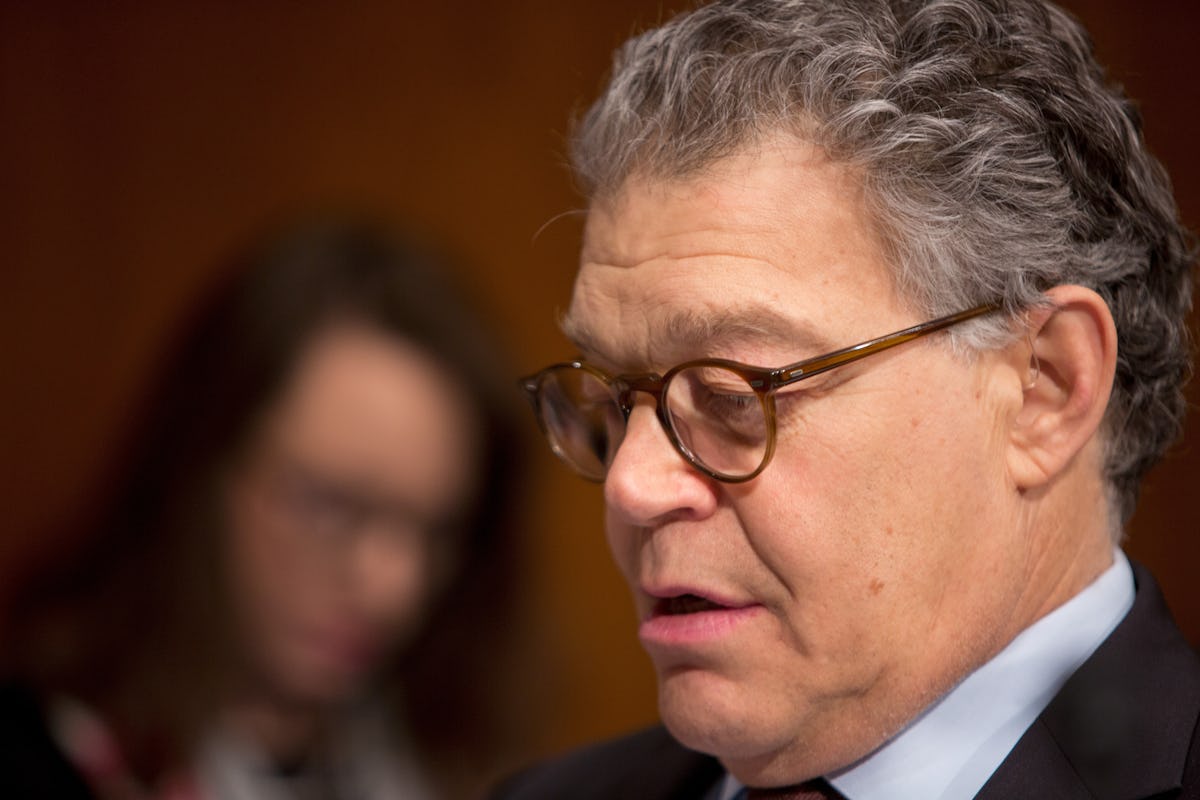 Democrats Are Calling For Al Franken's Resignation, So What Happens Now?
Tasos Katopodis/Getty Images News/Getty Images
In the past few months, a number of women and men have come forward to accuse powerful men across industries of sexual harassment and assault. Among those accused is Senator Al Franken (D-Minn.), who was photographed groping a sleeping woman in 2006, before he was in office. Now, his conduct has many calling for him to step down from office — including his Senate colleagues. So, will Al Franken resign?
Franken is expected to make an announcement on Dec. 7, according to The Washington Post. While Minnesota Public Radio has reported that Franken will resign during that announcement, a tweet from the senator's official account says that no decision has been reached. "[T]he Senator is still talking with his family," the tweet read. Franken has apologized for his conduct, but has previously indicated that he intends to finish his term in office.
On Wednesday, many of Franken's Democratic colleagues in the Senate — many of them women — began calling for him to step down from office. Senators Kirsten Gillibrand, Claire McCaskill, Kamala Harris, and Mazie Hirono were among the many voices who said that it would be best if Franken resigned, sharing statements, tweets, and Facebook posts denouncing Franken's behavior.
In a series of tweets, Sen. Maggie Hassan of New Hampshire said that it was "clear that Al Franken has engaged in a pattern of egregious and unacceptable behavior towards women," and called for his resignation. She continued,
We are experiencing a change in our culture that is long overdue, and we must continue working to empower all women and do everything we can to prevent sexual harassment, misconduct, and assault.
While Franken's colleague from Minnesota, Sen. Amy Klobuchar, didn't explicitly call for him to step down, she called sexual harassment "unacceptable" and suggested that he should resign in an afternoon tweet. "This morning I spoke with Senator Franken and, as you know, he will be making an announcement about his future tomorrow morning," she wrote. "I am confident he will make the right decision."
As of Dec. 6, Franken has been accused of sexual harassment or groping by at least eight women. The accusations began when radio host Leeann Tweeden said in a mid-November blog post that the now-senator had groped and kissed her without her consent in 2006, when the two were performing on a USO tour together. In the post, she included a photo taken of Franken smiling at the camera as he placed his hands on a sleeping Tweeden's breasts.
In a statement, Franken apologized to Tweeden and promised to cooperate with an ethics investigation. "The first thing I want to do is apologize: to Leeann, to everyone else who was part of that tour, to everyone who has worked for me, to everyone I represent, and to everyone who counts on me to be an ally and supporter and champion of women," he said.
The Senate Ethics Committee launched an investigation into Franken's behavior at the end of November, but other women have since come forward with accusations that Franken touched them inappropriately as well, often by groping them at a photo op. Franken said of the groping allegations that he has taken "a lot of pictures" and he didn't remember the incidents described, according to The New York Times. On Dec. 6, another woman came forward, claiming in The Atlantic that Franken had grabbed her rear while taking a photograph together at a party for Barack Obama's inauguration in 2009.
Franken is not, however, the only member of Congress who has been accused of sexual harassment or assault. On Dec. 5, Rep. John Conyers (D-Mich.) resigned from the House of Representatives over multiple allegations of sexual harassment.
On the other side of the aisle, Texas Rep. Blake Farenthold reportedly used $84,000 in taxpayer money to settle a sexual harassment lawsuit against him by a former employee. Farenthold has denied wrongdoing and promised to repay the money. And in Alabama, the GOP's nominee for U.S. Senate, Roy Moore, has been accused of sexually pursuing minors, including a woman who alleges Moore touched her intimately when she was only 14 years old. Moore has denied the allegations.
However, Republicans have generally stood behind their accused party members. Speaker of the House Paul Ryan declined to call for Farenthold's resignation, saying that the Office of Congressional ethics hadn't found "substantial reason to believe" his accuser's claims, per Politico. And President Donald Trump endorsed Roy Moore following the accusations against him, while on Monday the Republican National Convention reinstituted funding for Moore's get-out-the-vote efforts.
When it comes to Franken? I guess we'll find out on Thursday. But I wouldn't be surprised if Congress had a little more sitting room on Friday morning.