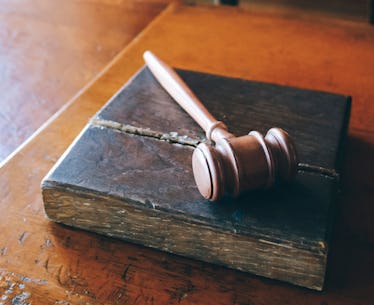 Adnan Syed Is Getting A New Trial, So This Story Isn't Over Yet
Raymond Forbes LLC/ Stocksy
It's been four years since the Serial podcast drew attention to the incarceration of Adnan Syed for the murder of his girlfriend Hae Min Lee. In light of speculation over Syed's trial and guilt, Serial fans have wondered, will Adnan Syed get a new trial? The answer, apparently, is yes. On March 29, Syed was granted a new trial by the Court of Special Appeals in Maryland, according to NPR. So this story isn't over yet.
Syed was convicted of kidnapping and the first-degree murder of his girlfriend Lee in 2000, and was sentenced to life in prison, plus 30 years, according to the Serial site timeline. On March 29, though, the three-judge panel of the Maryland court declared that Syed's defense constituted a "deficient performance" because the team failed to contact a potential witness whose alibi could "have raised a reasonable doubt in the mind of at least one juror," according to the ruling.
In 2014, Serial host Sarah Koenig and her team took a deep dive into Syed's story, trial, and conviction. In doing so, they found a few inconsistencies in his case — biggest of which was that Syed's former classmate Asia McClain was an alibi witness. She said that she'd seen Syed at the time of Lee's murder, but McClain's testimony was never brought up in court, according to NPR.
Syed's new legal team argued that because Syed's defense failed to contact McClain and bring her testimony forth in court, his original legal team failed him. The court agreed and the ruling stated that if Syed's legal team would have done better, then maybe Syed's trial would have gone differently. It reads,
The court concluded that there was a reasonable probability that, but for trial counsel's deficient performance, the result of Syed's trial would have been different.
Syed's new lawyer, Justin Brown, said in a news conference on March 29, that Serial really created a path to McClain and gave Syed a fighting chance, according to The New York Times. Brown said,
Serial kind of shook the trees and that enabled us to get in contact with Asia McClain and bring her to Baltimore for the post conviction hearing two years ago. Serial has also helped build this groundswell of support for us and for Adnan and for the case, and that has fueled these efforts and helped us to fight on as we have.
As soon as the Serial dropped in 2014, it became a sensation. It became the most downloaded podcast — towering at over 100 million downloads. Serial also became the first podcast to ever win a Peabody Award, according to The Baltimore Sun. The podcast was granted the award for shining a light on the failings in our criminal justice system and for its "innovations of form and its compelling, drilling account of how guilt, truth, and reality are decided, according to the Peabody site.
When accepting the award Koenig expressed how shocked she was the Serial garnered the attention that it did. She pointed out how the podcast was about an older murder — probably, she thought, one that people had long forgot about or never knew about — that she wasn't going to solve, so she didn't think anyone would care. She said,
We did not expect Serial to get very much attention at all. We made it mostly from my basement, with pillows and blankets thrown around to muffle the sound. We would have to stop recording when my kids flushed the toilet and stuff. So, we really weren't expecting it. Plus, it's a 10-hour audio documentary about an old murder that I did not solve. But people listened anyway, a lot of people listened. I'm hopeful about that for the future of the kind of great reporting that's being recognized here tonight. Because I think, I hope, it means that, contrary to what we thought, people out there who listen to and read the kind of work we do, they do have patience for journalism that takes its time. And they like complicated stories about complicated people who do complicated things. So that just gives me a lot of hope.
Serial had all the traits that makes people obsess over true crime stories, but it was actually way bigger than that. Koenig and her team made a podcast that now, four years later, could spare a man from spending his entire life in prison.