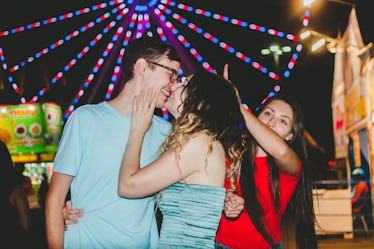 Why Your Bestie's Opinion Of Your Significant Other Really Matters The Most
Things have gotten pretty serious with bae, but before you can fully find peace in your relationship, it's time for the ultimate test. No, your boo doesn't need a number two pencil or anything. You want them to meet and really bond with your bestie, because your best friend's opinion of your significant other is so, so important.
Your bestie was likely there from the beginning — and let me retract that idea of this being a test. Your BFF isn't going to quiz your SO about how well they know you. She's a good vibes kind of a person, and ultimately, she really wants to get to know the special human who has entered her best friend's life. Because your bestie probably doesn't immediately judge anyone, her opinion is golden to you.
Your best interest is your BFF's best interest — and that's why they will make an effort to get to know your SO, even if they have to third wheel at an outing. You two talk about EVERYTHING, and as far as people you're interested in are concerned? You two could have a total field day. Out of all the people you'll feel pressured to impress with your SO, your best friend really isn't one of them. You value that heart-to-heart time you two will have when your BFF gives you their honest viewpoint, because their opinion matters the most in so many ways.