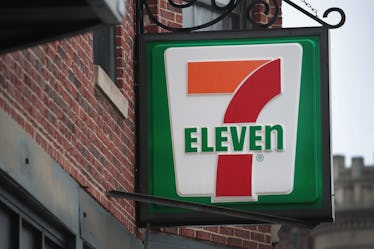 The Government Raided 7-Eleven Stores To Crack Down On Undocumented Immigrants
Scott Olson/Getty Images News/Getty Images
Early on the morning of Wednesday, Jan. 10, the Immigration and Customs Enforcement (ICE) raided dozens of 7-Eleven stores across the U.S., arresting 21 people in an effort to crack down on immigrant policy, according to The New York Times. The raid reached 98 stores in 17 different states including California, Washington D.C., and Florida, and there were 16 raids in New York alone. The Trump administration called this the largest enforcement operation against employers thus far, according to The New York Times.
"Today's actions send a strong message to U.S. businesses that hire and employ an illegal work force: ICE will enforce the law, and if you are found to be breaking the law, you will be held accountable," Thomas D. Homan, the acting director of the agency, said in a statement on Wednesday.
The larger corporation of 7-Eleven Inc., which is based in Irving, Texas, cast blame on individual store owners, rather than the corporation itself, for being "solely responsible for their employees" and making sure they were authorized to work in the U.S. "7-Eleven takes compliance with immigration laws seriously and has terminated the franchise agreements of franchisees convicted of violating these laws," the company said.
While this may be the largest operation thus far, Trump isn't the only president who has infiltrated and prosecuted employers for hiring undocumented workers. This specific sweep was described by ICE as a "follow-up" from 2013, when ICE, under President Barack Obama, arrested nine 7-Eleven owners and managers from Long Island and Virginia and opened an investigation into their illegal employment of undocumented workers. The franchises were reportedly running a "modern-day plantation system," according to U.S. Attorney Loretta Lynch, in which undocumented workers were given stolen identities and worked 100-hour-weeks, receiving only a fraction of what they worked for. A spokesman for 7-Eleven Inc., Scott Matter, said in a statement after the 2013 raids that the company would "take aggressive actions to audit the employment status of all its franchisees' employees."
Derek Benner, an official at the ICE, told The Associated Press that these raids were "the first of many" and "a harbinger of what's to come" for employers and undocumented workers. In response to the raids, many Twitter users were outraged, with some even comparing the business raids to 1930's Nazi politics.
Under former President George W. Bush, the ICE raided meatpacking industries, fruit suppliers, and carwashes for unauthorized workers. When Obama was elected, ICE switched gears to border patrol, the deportation of convicted criminals, and policing employers on paper rather than physical raids, with the exception of the 2013 investigation.
These raids came a day after Trump held an unusually televised bipartisan meeting with his cabinet and lawmakers to discuss immigration policies, as well as the fate of the Deferred Action for Childhood Arrivals (DACA) in hopes of coming to a compromise with Democrats and Republicans. Trump's apparent willingness to negotiate and attend to the Democrats' demands is likely because of the upcoming midterm elections this year. A Democrat-controlled Congress is highly probable as many Republicans plan to retire their seats and many new Democrats are hoping to take them.
"Businesses that hire illegal workers are a pull factor for illegal immigration and we are working hard to remove this magnet. ICE will continue its efforts to protect jobs for American workers by eliminating unfair competitive advantages for companies that exploit illegal immigration," Homan, the ICE acting director, said in his statement.
Targeting 7-Eleven stores, which have become a stepping stone in employment and management for many new immigrants, will likely stir fear and unease for a potential number of undocumented workers in the U.S. who were spared from this raid. ICE's promise to "continue its efforts" on tightening immigration may mean that more unexpected, random raids are to come. The raids also may create tension for the thousands of young DACA recipients who are waiting on Congress to determine the fate of the program — and ultimately their ticket to stay in the U.S. Democrats are pushing for a bipartisan deal that includes DACA by Jan. 19, when government funding is set to expire.