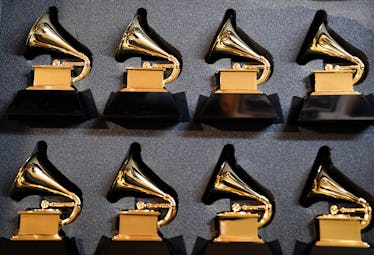 Sorry Music Fans, The Grammys Have Been Postponed Over COVID-19 Concerns
Andy Cross/MediaNews Group/The Denver Post via Getty Images/Denver Post/Getty Images
UPDATE: The Recording Academy officially announced the 2021 Grammy Awards will air on Sunday, March 14.
The fates of several large events, gatherings, and ceremonies throughout 2020 were up in the air due to the worldwide outbreak of coronavirus. Many fans were hopeful, however, their favorite award shows and concerts would be back in the new year. Unfortunately, the annual A-list lineup of live entertainment events is already looking dismal as The Recording Academy is reportedly postponing music's biggest night. Why are the 2021 Grammys being postponed? You guessed it: COVID-19.
The announcement of the 2021 Grammys nominations, originally slated to air Jan. 31, had stans everywhere excited for their faves to win awards on music's biggest night. With a nominee list including the likes of BTS, Megan Thee Stallion, Dua Lipa, Harry Styles, and Phoebe Bridgers, there was no doubt in fans' minds the annual award show would have some viral moments. Due to concerns about the potential spread of COVID caused by the event and its production, a representative from The Recording Academy told Variety the 2021 Grammys is getting postponed with a new date to be announced in the near future.
Interim Grammy chief Harvey Mason Jr. told Variety in November that the Grammys would be staged uniquely compared to other shows that aired during the pandemic. "It's gonna be a show that's different from the other awards shows that have happened at this point," he said, and alluded to other exciting behind-the-scenes developments for audience engagement. With such a huge vision for the production comes a longer lead time, and it would seem the Grammys team ran into production delays.
Other award shows, like the 2020 MTV VMAs, showed mostly pre-taped segments and strictly-distanced shots of celebrities. While the show was still entertaining (Lady Gaga's fashion was out-of-this-world amazing), audiences looked forward to a future with more interactive live shows. Unfortunately, with the coronavirus vaccine rollout just beginning around the world, early 2021 live events that typically pull in large audiences might have to wait a little bit before going straight to air.