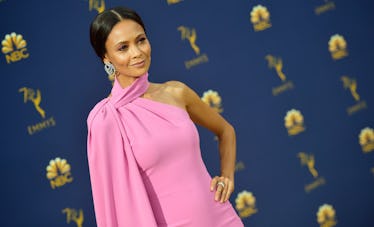 Thandie Newton Was Bleeped At The Emmy Awards, But Her Speech Was Perfect Anyway
Matt Winkelmeyer/Getty Images
Thandie Newton delivered one of the most memorable acceptance speeches of the night at the 70th Annual Emmy Awards on Monday, and it included her getting bleeped on air. As Newton took to the stage to accept her award for Outstanding Supporting Actress in a Drama Series, she was so blown away that she let an expletive fly. It may have left viewers at home wondering, "Why was Thandie Newton bleeped at the 2018 Emmy Awards?" So let's recap her incredible speech.
When she got on stage to accept her Supporting Actress Emmy, Thandie Newton was clearly blown away by the honor. Newton won the award for playing the robot-gaining sentience Maeve Millay in the second season of Westworld, marking this her first-ever Emmy win after receiving her first nomination last year for the same role. Newton began her speech with a revolutionary twist on a thank you to God, then reflected on how blessed she was to get her role on Westworld. She got so caught up in her blessings that she even let a swear slip out, which was of course bleeped by NBC during the live telecast. Here is what Thandie Newton said when she got on stage to accept her trophy:
I don't even believe in God but I'm going to thank her tonight. I am so blessed, I am so blessed. Without this, I am even so f—ing blessed. To work with the people that I have gotten to work with, the cast and crew of West—I can't believe I'm here—the cast and crew of Westworld, I love you all so much.
And you can watch the acceptance speech for yourself below:
This is Thandie Newton's first Emmy win, and her second nomination. She was first nominated for her role as Maeve on Westworld last year, but wound up losing to Ann Dowd's Aunt Lydia on The Handmaid's Tale, the show that went on to sweep last year's ceremony. But this year, Newton managed to beat out Dowd and a stacked category to win the Supporting Actress award. Newton beat out Dowd and two other Handmaid's Tale stars (Alexis Bledel and Yvonne Strahovski), along with three fan favorites — Millie Bobby Brown from Stranger Things, Lena Headey from Game of Thrones, and Vanessa Kirby from The Crown — to snag the trophy. It's no wonder she was so awestruck!
But of course, the Emmy is most definitely well deserved. Thandie Newton became a standout on Westworld for her nuanced portrayal of an artificially intelligent robot who begins to gain sentience and act on emotional memories, even though she cannot be sure if they are her own memories or not.
The sci-fi series has also become a massive hit for HBO, and the network renewed it for a third season after only two episodes had aired in the show's recently concluded second season. Unfortunately, we still do not know exactly when Westworld Season 3 will premiere — there was a year-and-a-half break between the first and second seasons, so we may have to wait a while. At least we can still see the cast at these awards shows while we wait!