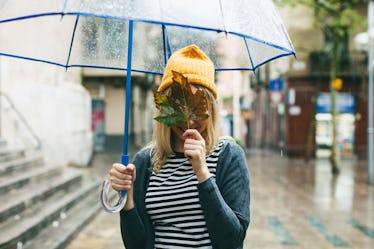 #SweaterWeather 101: The Real Reasons Why It's My Least Favorite Hashtag Of All Time
I'm not trying to burst anyone's bubble, but if I could go through the rest of my days without seeing #SweaterWeather, I would be living my best life. I'm all for the rhyming — since Dr. Seuss books were my childhood mantra — but this hashtag is just not my cup of tea for a few reasons. Hear me out, autumn lovers. Let me explain why "sweater weather" is my least favorite hashtag of all time, and you can judge me for it later (or accept my wonky reasoning and move on).
I'm all for fall for the most part, and accepting the beautiful changes of the leaves outside. But I'd be lying if I said that I haven't seen an awesome picture of someone chilling in a pumpkin patch, scrolled down, saw the "sweater weather" hashtag as their caption, and almost didn't double-click. (I know, sort of petty.)
I don't mean to be salty, but the hashtag really just rubs me the wrong way. (Sort of like an itchy wool sweater, go figure.) I'm not asking you to agree with me by any means, because I'm sure you have plenty of dope pics you've paired this particular hashtag with. All I'm saying is my reasoning doesn't come unjustly, and I've listed all six bullet points for you.