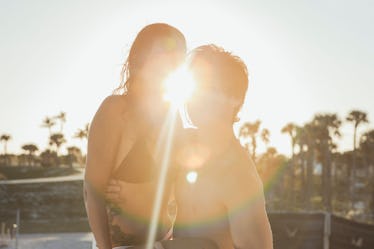 5 Reasons Summer Love Feels So Different From Falling In Love At Any Other Time
Falling for someone new is a feeling unlike any other. Experiences like sharing that first kiss, getting butterflies in your stomach whenever you think about them, and wanting to talk about the person all the time somehow never get old. With a new love interest comes a restored sense of promise. And speaking of renewed hope, is it just me, or is falling in love in the summer even better than falling in love during any other season? It's fairly easy to see why summer love is different. The sun is constantly shining, days are longer, and school is out, so you're already in a good mood. Sure, fall has snuggle weather and winter has romantic snow days, but during the summer you can actually spend time together outside. And it's a scientific fact that Vitamin D from the sun is good for your health and overall happiness.
There are other biological reasons why summer love feels so different, as well as some explanations that are more just common sense. Summer love is special, and like the season, often gone too soon. Here are five reasons why summer is the best season for falling in love, no matter how fleeting it may be.