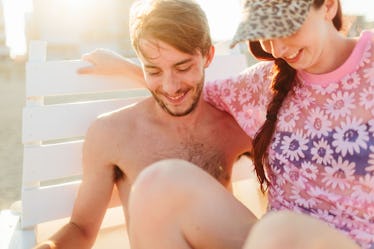 This Will Be Your Hottest Summer Month For Love, According To Your Zodiac Sign
Summer is just around the corner, and I can practically feel the sun on my cold, pasty skin. From late May through to the dog days of August, I know the weeks will be marked by trips to the coast, coconut-scented body spray, and unavoidably awful tan lines from my jorts — ah, what a time! Of course, summer also comes with a whole lot of of unknowns (and a whole lot of opportunities for exciting new romance!). So, if you're dying to know what the stars have in store, and the best month for summer love based on your zodiac sign, you've come to the right place.
"It's an interesting summer, to be sure," promises Judi Vitale, an astrology expert and spiritual alignment counselor at Journeys of Life. "[On May 15, Uranus moved] into Taurus — this planet changes signs only once every seven years, so it will be felt by just about everyone. There are eclipses in Cancer, Aquarius and Leo, too. Finally, a long retrograde of Mars will slow things down in one area or other in everyone's lives."
In other words, these planets are moving around a bunch during summer '18, and it probably means that you've got some great summer lovin' and romance ahead (like Sandy and Danny in Grease, but better!). Vitale gave me the scoop on exactly what these shifts mean for each of the signs, and when we can all expect to have our own steamy flings. Get excited.