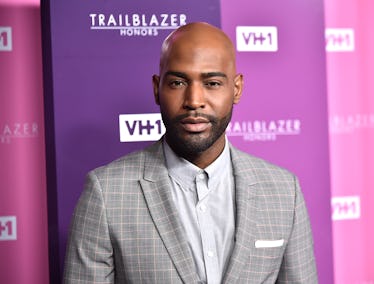 Karamo Brown Wants You To Instagram What Went "Wrong" On Vacation & He Has A Point — EXCLUSIVE
Theo Wargo/Getty Images Entertainment/Getty Images
Picture this: You and your best friend just landed in Hong Kong — or the Caribbean, or Iceland, or wherever you guys have been daydreaming about going for your first international trip. Your hand is literally shaking with excitement as you try to take a quick boomerang of your first steps overseas — but then the airport tells you your luggage has been lost. Oh, and you're about five hours too early for check-in at your hotel. So uh, now what? At this point, you might listlessly look down at your phone, feeling frustrated that your dream vacation is off to such a rocky start. But if you ask Queer Eye's Karamo Brown, he wants you to Instagram what went "wrong" on vacation. In fact, he'd probably tell you that your lost luggage and the time you have to kill before check-in are both huge blessings in disguise, even though, in your mind, these moments don't exactly scream "Insta-worthy."
As the Fab Five's resident culture expert, Brown is no stranger to traveling, or the many ups and downs that come with trekking across the globe. But when it comes to sharing your adventures on social media, Brown says he'd much rather see the "downs" than the "ups."
"Some of the travel sites that I love the most are the ones that, first of all, show you that sometimes your luggage gets lost, and sometimes you get to the hotel and you don't get to check in as soon as you get off the plane, and you have to figure out what to do with yourself for six hours," Brown tells Elite Daily. "Those are the things that are authentic, and I think giving people a real perspective of what's happening can give them the inspiration and courage they need to actually want to travel the world and see the world."
To Brown, a Marriott #LoveTravels ambassador, the most memorable parts of a vacation don't necessarily have to include first-class seats on a plane or a swagged-out hotel room. In fact, he tells Elite Daily, his first trip overseas was a 12-hour flight in economy seating, and "it was horrible," he tells me with a laugh. "But the fact that I got on that plane and I had one of the best times I've ever had in my life, that made up for the 12-hour flight."
Most Queer Eye fans can agree that one of the best things about watching Brown work his magic with the rest of the Fab Five is the way in which he's able to connect with people he barely even knows. I mean, who didn't feel something during Season 1's "Dega Don't" episode, when Brown had that raw heart-to-heart with Georgia cop Cory Waldrop about police brutality in America? Or in Season 2's "Big Little Lies" episode, when he helps Ari, a compulsive liar, discover the importance of being honest not just with others, but with himself?
In Brown's perspective, it doesn't matter how different people may be in their cultures, their beliefs, or where they come from; the thing that unites us all as human beings, he tells Elite Daily, is love. "If you don't know a language or culture, remember that the one thing that is universal is love. The motto with Marriott is 'love travels,' and it's why I love partnering with them — it's the truth," he says. "I've been to so many places around the world where you just experience love in the most amazing ways, whether someone is offering you food, or a ride, or directions. I think people should show that on their social media accounts."
Wherever your travels take you, Brown says, the best destinations are the ones that always make you feel at home, but still encourage you to keep learning and asking questions. "The biggest thing is about making sure your own curiosity is still intact," he tells Elite Daily, pointing out that, when you're younger, people usually encourage you to indulge in and develop your creativity. But as you get older, he says, "people start to stunt that creativity, and tell us other things are more important: finances, finding a relationship, having kids; [people tell you] these are the things that are most important and that make you an adult. But I think what makes you the best adult is being creative."
Whether you're planning a staycation or a trip overseas, Brown says he wants you to be honest with yourself about what you truly love to do in life, rather than travel somewhere or do something just because it'll help you rake in the most "likes" on social media. "I think it's all about checking in with what things love so you can really truly want to be curious about having an amazing [trip]," he tells Elite Daily.
So when you're stuck on an unexpected four-hour layover in Vancouver, or your Airbnb host in Barcelona says you have to kill three hours before check-in, ask yourself: What would Karamo Brown do? Yes, you might find yourself awkwardly trying (and even failing) to communicate with locals in Spanglish, but those are the moments you're bound to remember for years to come — not the hours you spent at the airport trying to connect to wifi.