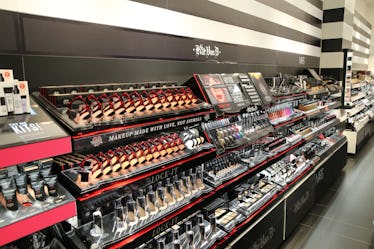 Here's Why Sephora Will Briefly Close Every U.S. Store On Wednesday, June 5
Rob Kim/Getty Images Entertainment/Getty Images
Attention, all beauty lovers: If you were planning on running to your local Sephora anywhere in the U.S. on Wednesday, June 5, know that you'll find it closed in the morning. Why is Sephora closing its U.S. stores on June 5, you ask? A valid question. There's a really good reason as to why this shutdown is necessary, so even if you do run out of brow gel that Wednesday, you'll be happy the store was closed in the long run.
If the above has you very confused, let me explain. On Wednesday, June 5, all Sephora stores in the United States will be closed for an hour in the morning so employees can attend diversity training. Elite Daily reached out to Sephora for comment following the news of the store's closing for the day, and was provided with the following statement:
Sephora is a client-centric company and creating a welcoming space for all our clients is our top priority. The "We Belong to Something Beautiful" campaign has been in the works for a year, and the plan to close our U.S. stores, distribution centers, call centers and corporate office for a one-hour inclusivity workshop with our 16,000 employees has been in development for over six months, timed with our first campaign chapter debuting on June 6th. This store closure is part of a long journey in our aspiration to create a more inclusive beauty community and workplace, which has included forming employee resource groups, building Social Impact and philanthropic programs, and hosting inclusive mindset training for all supervisors.
While it is true that SZA's experience occurred prior to the launch of the "We Belong to Something Beautiful" campaign, the campaign was not the result of this Tweet. However, it does reinforce why belonging is now more important than ever. Our entire organization is excited to set aside this time to re-commit to building an environment of inclusion. We'll be discussing what it means to belong, across many different lenses that include, but are not limited to, gender identity, race and ethnicity, age, abilities, and more. This week marks the first step in our journey, and with the goal of ensuring everyone feels welcome in the beauty category, we hope that We Belong to Something Beautiful helps further foster that belief, for the benefit of our clients, for the betterment of the industry and our communities at large.
ICYMI, singer SZA recently took to Twitter to share an experience she had at Sephora, during which she claims she was racially profiled:
"Lmao Sandy Sephora location 614 Calabasas called security to make sure I wasn't stealing," SZA wrote to her 2.6 million Twitter followers, "We had a long talk. U have a blessed day Sandy." The next day, Sephora responded to SZA via Twitter about their emphasis on inclusion. "You are a part of the Sephora family, and we are committed to ensuring every member of our community feels welcome and included at our stores," the brand wrote.
As Sephora mentioned in their statement, this very public interaction occurred following the company's decision to organize a company diversity initiative and country-wide diversity training day, but still, I think it goes without saying SZA's decision to raise her voice really made a difference for a lot of people who have experienced something similar. Thank you, SZA, for speaking up about this ongoing issue, and thank you, Sephora, for being proactive when it comes to enforcing and promoting inclusivity. Makeup is for everyone, and for many, it's a treat-yourself luxury, so to go into a beauty store (or any store, for that matter!) and feel uncomfortable, excluded, or racially profiled in anyway is 100% inappropriate and not OK.
The SZA event did create an opportunity for other Sephora shoppers to share their thoughts, and they were all in agreement about a need for a shift in how employees treat their shoppers:
This upcoming training session is an essential part of reshaping the way Sephora employees perceive and interact with customers, and in addition to this, the company has spent the past year gearing up for the launch of their "We Belong to Something Beautiful" initiative, featuring a manifesto that's all about celebrating diversity.
The campaign praises self-expression, courage, and diversity in the beauty community:
Though it's a shame SZA (and so many other people of color) experienced this sad reality, it's so important SZA used her platform to shed light on the event and and ignite change. It's equally pleasing to see Sephora take action to improve and create a more inclusive shopping experience.