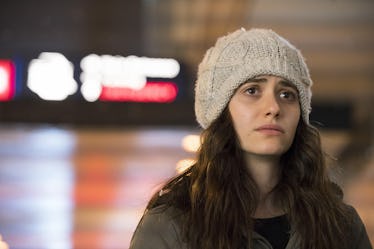 Emmy Rossum Just Opened Up About The Reason She's Leaving 'Shameless'
Showtime
Emmy Rossum shocked Shameless fans when she announced she was leaving the dramedy after soon-to-be nine seasons of playing oldest Gallagher sibling Fiona. The actress penned a heartfelt message bidding farewell to the show, her character, and her castmates, but since releasing the post, she's now spilled more about her decision to leave. We're all wondering why Emmy Rossum is leaving Shameless, and although she didn't share a direct answer, it seems that Rossum is just in need of a change.
Speaking exclusively with Entertainment Weekly soon after posting her goodbye message, Rossum shared that she had enormous faith in the show's ability to continue after her departure. Season 8 of Shameless ended with Fiona "going Gallagher" and taking matters into her own hands when dealing with squatter tenants in her apartment, while Fiona's Season 9 storyline will reportedly focus on her taking an expensive leap of faith to build her real estate success. With the show now working toward the character's exit, we can assume that this gamble will play out beneficially, perhaps putting the rest of the family in a strong financial position in a possible tenth season.
Fans hoping for a nitty-gritty response of why Rossum is leaving the show are out of luck, but like with many actors on long-running series, it sounds that she just needs a change of pace. She told EW:
I will never be saying goodbye to Fiona. Fiona is a part of me and has been like every character is a part of you and you are a little bit part of them. My Shameless family is really my second family and I've spent so much time with them — 10,000 hours — that it really feels like we've all grown up together. I started on the show when I was 23 and now I'm not. And it's a wonderful, wonderful amount of time and I feel incredibly proud of everything we have created. I'm just filled with gratitude for everyone's hard work.
While it's too early to count on any guest appearances from Rossum past Season 9, series creator John Wells has seemingly confirmed that Rossum will officially leave Shameless in the ninth season finale. After Rossum announced her impending departure, Wells told TVLine, "We are hard at work now creating a Season 9 finale… which we hope will provide a Gallagher-worthy sendoff for Fiona that honors the great work Emmy has done."
Alongside William H. Macy, who plays struggling father Frank Gallagher, Rossum's Fiona is often considered a lead character on Shameless. However, seeing as the other actors portraying family members have only grown in talent over the years, the show definitely has a chance of success once Season 9 wraps. Rossum told EW:
I think the show could quite honestly go on forever, because the family is dynamic and the kids grow up and they have their own story lines and they branch out and they are fully-realized actors and human beings and they have opinions... There are so few shows on television that are showing what it's like to live in America and struggle right now... To to have a show that's doing what other shows aren't and to have the audience stick with it is such a privilege.
In Rossum's original farewell post, she called playing Fiona a "gift" and dubbed the series "the best [years] of my life." Watching her throughout her last Shameless season will definitely get emotional, but knowing that both she and the creators have Fiona's best interests at heart ought to produce a satisfying goodbye.
Season 9 of Shameless premieres on Sunday, Sept. 9 at 9 p.m. ET on Showtime. The second half of the season debuts in January 2019.