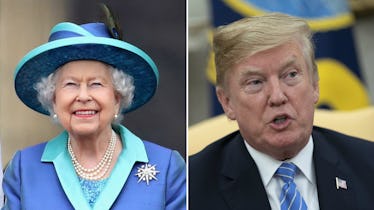 Donald Trump Is Meeting Queen Elizabeth For The Most Appropriate Reason Ever
Pool/Getty Images News/Getty Images/Chris Jackson/Getty Images Entertainment/Getty Images
President Donald Trump boarded Air Force One and took flight to the United Kingdom on Thursday, July, 12. While he's there for his first official visit to the U.K. — being referred to as a "working visit —" Trump will also have his first meeting with the Queen. You might be wondering, Why is Trump meeting with Queen Elizabeth? It's actually part of a long-standing tradition, and a favorite attraction of U.S. presidents for decades.
According to Time, the Queen has met with every U.S. president since 1951 — except for Lyndon B. Johnson. I'm not surprised this is all about tradition, after all, the royals love their traditions. I spent so much time trying to keep up with all the traditions during royal wedding season, there are a ton of them. Like, there's the traditional fruit cake wedding cake, who walks the bride down the aisle, even who gives the speeches. You get my point, royalty comes with lots of tradition. It's part of their charm.
So the fact Trump is following in the footsteps of the 10 U.S. presidents who kept up with the tradition makes sense — she's the Queen for heaven's sake, and you don't turn her down. Back in June U.S. Ambassador Robert Wood Johnson confirmed the president's trip to Sky News, and said that Trump "has to see the head of state," meaning the Queen. Johnson said,
Yes, yes, I mean he has to see the head of state. Putting his foot on British soil, it's Job One, it's very important, very symbolic. ... Meeting Her Majesty is the most important thing, because she's the head of state, and from then on, it'll be what the president wants to do.
I can't be entirely certain of what Johnson meant, but judging by the whole "from then on, it'll be what the president wants to do," makes it sounds like Trump is not too keen on meeting with the Queen (though I can't imagine why he wouldn't want to hang with the Queen in a castle. I'll totally fill in). More to the point, I think that last line solidifies how important and symbolic the meeting of these two heads of state is.
Maybe Trump just needed to warm up to the idea a little, because about a week after Johnson spoke to Sky News, during a July 6 press call, Johnson said the Queen has met with nearly every U.S. president since she took the throne, so he knows Trump and Melania Trump are looking forward to it. He said,
As head of state, Her Majesty has met every U.S. president since 1952 (when she became queen) – amazing – with only one exception, that's Lyndon B. Johnson. So I know the president and the first lady are really looking forward to meeting her.
While it's tradition for U.S. presidents to visit with the Queen during official state visits, questions arose as to whether Trump would take the meeting because technically, it's not an official state visit. According to Sky News, it's being described as a "working visit," which is a lower-ranked meeting that is not as formal and doesn't have all the bells and whistles of an official state visit. Therefore, technically, it's not written in stone that Trump and the Queen have to meet. But they will, and even though it's a "working visit" there will still be a ceremony of sorts. According to Vanity Fair, a guard of honor will give a royal salute, the national anthem will play, the military will parade through and then they'll have tea in the castle. Sounds like a pretty swanky shindig to me.
It's a shindig I didn't know if Trump would ever make it to, honestly. The president was initially invited for an official state visit right after his inauguration — and invitation he has yet to make good on. The president skipped out on that initial invite because of protest threats in the U.K. over his visit, and cancelled his plans to open a new embassy in London because he was unhappy with the Obama administration selling the old embassy for "peanuts" — a claim later found to be false, according to MSNBC. But that's all behind us now. If all goes according to plan, Trump will head to Windsor Castle on Friday, July 13 and meet Queen Elizabeth for the first time.
I'm happy that Trump isn't going to snub the queen, I want Americans to still be allowed in the U.K. (I haven't seen Big Ben yet.) Keep your fingers crossed it all goes well.