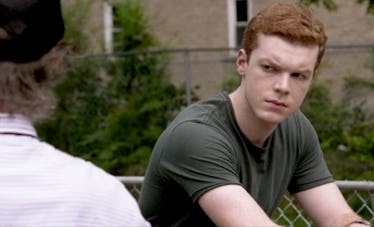 Cameron Monaghan Announced He's Leaving 'Shameless' Along With Emmy Rossum
Showtime
The Gallagher house is about to start looking pretty empty. A little over a month ago, Shameless star Emmy Rossum shocked fans by announcing that she will be departing from the long-running family drama at some point this season, and now, her costar Cameron Monaghan has revealed he will also be exiting the show. Why is Cameron Monaghan leaving Shameless, and how will Ian Gallagher say goodbye to everyone within the series? Monaghan posted an emotional farewell message to Shameless that explains it all.
Although we do not know exactly when Emmy Rossum's final episode as Fiona Gallagher will air this season, Cameron Monaghan shared that he will only appear in next Sunday's upcoming episode and then that's it for Ian Gallagher. Monaghan has been playing Ian for nearly eight years, establishing himself as one of the breakout stars of Shameless thanks to taking on some of the show's most memorable storylines involving sexuality, gender, LGBT+ activism, and religion. He shared that he had known for a long time that this the upcoming sixth episode of Season 9, entitled "Face It, You're Gorgeous," would be his final appearance on Shameless, but chose to keep it to himself so viewers could enjoy Ian's journey without anticipating his departure from the show.
Read Cameron Monaghan's full message on departing from Shameless below:
I have been a series regular on this show for roughly ten years. I was the tender age of fifteen when we shot the pilot, and I came of age in so many ways, both legally and personally. I was very lucky to mature and grow with this show. Experiencing so many firsts, maturing as an actor, a professional, and a human. In the process gaining friends, family, and the best coworkers a very lucky actor could ask for, and for this I can be nothing but gracious.
All good things come to an end. An old cliche, but one that rings true with a sincerity and clarity especially in moments like these. Everything ends.
The next episode will be my last. I have known since last year, but I didn't want to give it away too early as I wanted this season to be a surprise for the audience, allowing them to experience Ian's unsure journey with his character. This role has been a joy to inhabit, a wild and special ride, and I'd like to thank #Shameless as well as you, the viewers, for being there with him. Goodbye, Ian Clayton Gallagher. We'll meet again?
With only one episode left for him to appear in, Ian Gallagher's storyline on this season of Shameless actually makes even more sense. Spoiler alert: Don't keep reading if you're not caught up through Season 9 Episode 5. In his penultimate episode, we saw Ian struggle with a decision of whether or not to plead guilty due to insanity or take a longer prison sentence over his arson charges in court. The choice, which caused a split between his family and his Gay Jesus followers, became so overwhelming that Ian even dyed his hair black and almost ran away, but in the end, he did show up at court and accepted the insanity plea deal, letting down and seemingly invalidating his whole Gay Jesus movement.
Since Ian's last episode is this week's, it looks like he is going to be leaving the show by going off to prison. Ian's final episode will air on Sunday, Oct. 14 on Showtime.