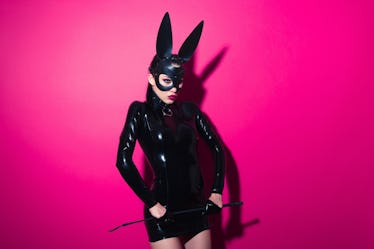 8 People Who Enjoy BDSM Explain Why They Like It So Much
If your tastes tend to run toward the vanilla end of the sexual spectrum, chances are you've probably wondered why people like BDSM. Do they actually like pain, or is there something more and deeper going on that isn't readily apparent? The reality is that sexual desire and pleasure are really complicated. Turn-ons and sexual satisfaction are deeply personal and diverse. That's really the beauty of it: You get to decide for yourself what works for you and, so long as there is consent, and you are taking all of the safety precautions, then there is no right or wrong way to be a sexual being. Frankly that's what makes BDSM so interesting; people who participate in it are boldly pursuing what they most enjoy in the bedroom (or dungeon, for that matter) without apology (unless, of course, that is a part of their kink). That said, the question remains: What specifically about BDSM makes it enjoyable to those who participate in it?
To help explain why people are drawn to this type of sexual roleplay and activity, I turned to the source: Folks on Reddit and social media who explain why they enjoy BDSM, in their own words. Honestly, it makes so much sense. Here is what they had to say.