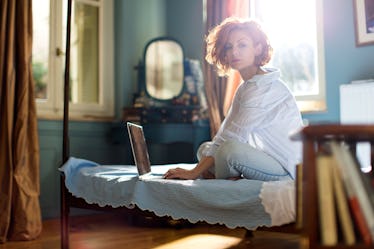 6 Unexpected Things That Might Explain Why You Keep Missing Your Period
Realizing that you've skipped a period is both scary and messy. On the one hand, you're terrified that you might be pregnant, and on the other, if you're not preggers, then it could be a red flag that something's going on physically or mentally to make your reproductive organs go rogue. So if your period's gone MIA, and you're 100 percent not with child, you may be asking yourself, "Why do I keep missing my period?" It's a valid question, and I wish I could tell you there's an obvious answer, but missing a period can be your body's reaction to any number of things.
Before we really get into this, I'm going to throw in a little disclaimer here: If you're freaked out about missing one or multiple periods, please don't self-diagnose your symptoms solely based on what your internet searches tell you. It's definitely important to do your own research and educate yourself on the possibilities of why your menstrual cycle is out of whack, but it's in your best interest to make an appointment with your gynecologist to figure out what's actually going on down there.
In order to avoid an internal freakout, browse through the following reasons that could explain why you've missed a period or two recently.