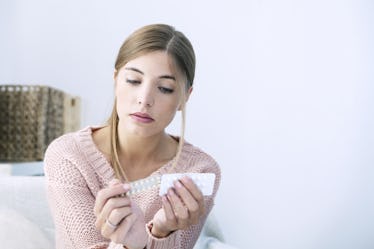 8 Things That Can Happen To Your Body When You Stop Taking The Birth Control Pill
There are countless horror stories out there in regards to switching and/or ditching birth control altogether that had me borderline terrified of ever parting with a monthly pack. Recently, however, a friend of mine decided to cancel her own monthly prescription, and I had some questions. She told me that, in her experience, the transition period in which your body switches gears and goes back to its own unique way of dealing with the female anatomy isn't actually as rough as the rumors suggest. I guess what happens when you go off the pill will really depend on your individual body. How it reacts might also have something to do with the way the pill handled your menstrual cycle prior to oral contraception.
The fact that we can even put pregnancy on hold through contraception is a miracle, but once you cut ties with something as internally involved as the birth control pill, your body now has free reign to do its thang whenever and however it wants. The effects may not be immediate, but keep in mind your body is now completely readjusting itself to produce hormones and initiate menstrual cycles without any help.
I think it's safe to assume that, because our bodies are all so different, expecting the unexpected isn't necessarily a bad approach, at least for the first few cycles after the fact. And, though this should go without saying, always be sure to consult your doctor about what's best for you and your body. But if you're wondering, here are a few common things that can happen to your body when you stop taking the birth control pill.