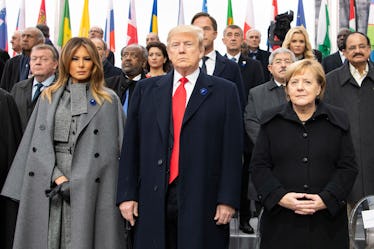 Trump Gave A New Reason For Missing That Military Cemetery Ceremony In France
Handout/Getty Images News/Getty Images
The president received major backlash over the weekend of Veterans Day 2018, after canceling his scheduled visit for a wreath-laying ceremony to the Aisne-Marne American Cemetery and Memorial outside of Paris on Saturday, Nov. 10. The event was to honor U.S. military dead ahead of the 100th anniversary of Armistice Day, which ended World War I. As to why Donald Trump didn't attend the Paris ceremony on Saturday, he's offering up a fresh set of reasons.
Initially on Sunday, White House Press Secretary Sarah Huckabee Sanders told the press that Trump could not attend because the Marine One helicopter couldn't fly in the "zero-visibility" rainy conditions, and that the president was unwilling to drive because it would necessitate road closures. "A car ride of two and a half hours, each way, would have required closures to substantial portions of the Paris roadways for the president's motorcade, on short notice," Sanders said. "President Trump did not want to cause that kind of unexpected disruption to the city and its people." The White House did not respond to Elite Daily's request for additional comment on the cancelled visit.
But on Tuesday, Trump gave a new reason why he wasn't there, appearing to contradict Sanders' earlier statement. "By the way, when the helicopter couldn't fly to the first cemetery in France because of almost zero visibility, I suggested driving," Trump tweeted on Tuesday, Nov. 13. "Secret Service said NO, too far from airport & big Paris shutdown." Elite Daily reached out to the White House and the Secret Service for comment on the tweet and decisions behind the cancelled visit, but did not hear back at time of publication.
The decision to ground the Marine One helicopter, France24 reports, is one that would normally be made by the Marine Corps and White House Military Office in conjunction with the U.S. Secret Service. Trump reportedly spent Saturday afternoon holed up at the U.S. ambassador's office instead; Chief of Staff John Kelly, Joint Chiefs of Staff Chairman Joe Dunford, and other White House staff attended in his absence.
The decision not to attend was ill-received then, and Trump's fresh excuse on Tuesday appeared to do little to quell the tide of skeptics.
As political consultant and longtime Hillary Clinton aide Philippe Reines noted via Twitter, the drive time isn't significantly different that a typical drive to the golfing range for the president. (In fact: Google Maps puts the drive time from Paris to the Aisne-Marne cemetery, as of writing, at around one hour and 10 minutes, though it's possible traffic conditions at the time were different.)
It's also not clear under what conditions a Marine One helicopter is able or unable to transport the president safely; Elite Daily's questions to the White House on this matter were not immediately returned.
The ongoing rift adds to increased tension between Trump and his counterpart, French President Emmanuel Macron, who, in a speech over the weekend rejected nationalism, a label which Trump recently ascribed to himself. "Because patriotism is the exact opposite of nationalism," Macron said on Nov. 11, as translated from French. "Nationalism is betrayal."
The president Tuesday also laid in on Macron via social media, writing that, "Emmanuel suffers from a very low approval rating," and added, "By the way, there is no country more Nationalist than France." (Trump's own approval rating is consistently far below that of his presidential predecessors, hovering in the range of a 40 percent approval and 52 percent disapproval, per FiveThiryEight.)
As MSNBC producer Kyle Griffin points out, the timing of Trump's aired grievances coincides with the anniversary of a particularly tragic day in Paris' history. Nov. 13 marks the three-year anniversary of 2015's attacks on the Bataclan theater and other places in Paris, in which 130 people were killed. Not great timing.
As for what actually transpired on Saturday, and whose "fault" it was that Trump didn't end up going, who knows. As of now, the statements from the White House haven't made that clear.