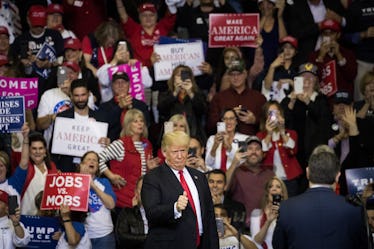 Donald Trump Said He's A "Nationalist," Which Has Some Upsetting Connotations
Loren Elliott/Getty Images News/Getty Images
With the 2018 midterm elections just over two weeks away, President Donald Trump was in Houston, Texas, on Monday, Oct. 22 to rally Republican voters ahead of a critical Senate race. But the rally didn't stick to the basic stump speech one might expect from the leader of the nation. Instead, Donald Trump called himself a "nationalist," invoking a charged term that has taken on a set of loaded connotations, considering its historical association with radical ideologies such as fascism and racial oppression. The White House did not immediately respond to Elite Daily's request for additional comment or clarification on Trump's statement.
On Oct. 22, Trump was rallying support for incumbent Republican Sen. Ted Cruz, who faces a challenge for his seat from Democrat Beto O'Rourke. In the home stretch before Nov. 6, Democrats and Republicans alike are fighting tooth and nail for control over both the House and Senate, and the president has been making the rounds to rally support for his party.
Speaking to what appeared to be a packed audience in the Toyota Center, the president spoke on his signature "America First" theme.
"You know what a globalist is, right?," Trump told the crowd Monday. "A globalist is a person that wants the globe to do well, frankly, not caring about our country so much. And you know what? We can't have that." But going one step beyond his usual script, the president then made a surprising statement about his ideological identity, saying,
You know they have a word, it sort of became old-fashioned, it's called a nationalist. And I say, 'Really? We're not supposed to use that word.' You know what I am? I'm a nationalist. Use that word, use that word.
The White House did not immediately respond to Elite Daily's request for comment on the choice of phrase.
The technical definition of "nationalism" is simply "loyalty and devotion to a nation," according to the Merriam-Webster online dictionary, and in writing about the difference between nationalism and patriotism the dictionary's editors say both share a common sense of devotion and pride of country. But the key distinction is that nationalism also includes the exclusionary aspect of placing one nation and its culture over other nations and cultures (basically, "America First"). This isolationist slogan has largely been apparent in Trump's own policies, from global economics to immigration. (Other dictionaries distinguish nationalism as an ideology that signifies political bent, whereas patriotism is merely a trait that transcends political affiliation.)
As to Trump's point of why the word nationalism isn't "supposed" to be used anymore? In modern American culture, the term has grown to include associations with more extreme fringe ideologies like ethnocentrism and fascism. The first two "key people" listed on Encyclopedia Britannica's entry for "nationalism" are Adolf Hitler and Benito Mussolini, which may give one a good sense of why the term has fallen out of favor. According to Merriam-Webster: "In U.S. usage nationalism is now perhaps most frequently associated with white nationalism, and has considerably negative connotations."
Whatever definition people choose to go by, the president's self-labeling drew virtual gasps from far beyond the state lines of Texas, and people pointed out the negative associations the term has.
Former U.S. Ambassador to Russia Michael McFaul didn't reserve his criticism of the president — or hesitate to call him out on his own label.
Political scientist and Eurasia Group president Ian Bremmer also interpreted Trump's label as not-quite-accurate.
As Bloomberg points out, the word choice is a shift from what Trump labeled himself as just a year ago, when he told the Wall Street Journal in April 2017 that he was both a "nationalist and a globalist." And as the Washington Post's Robert Costa explains, the move to openly identify himself as a "nationalist" represents a change in Trump's tone from even the past three years.
With voters already filling out ballots in some states and many more about to, Trump calling himself a nationalist amounts to a risky bet of appealing to Republican voters not just in Houston, but across the country. Whether that gamble pays off, only the results on Nov. 6 will tell.