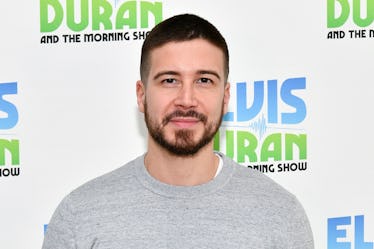 Vinny Reveals He's Single After 'Jersey Shore Family Vacation' & I Have Questions
Dia Dipasupil/Getty Images Entertainment/Getty Images
The return of Jersey Shore Family Vacation is amazing, but there's one thing I'm a little upset about: everyone, with the exception of DJ Pauly D, is married or in a relationship. The roommates were on their best behavior down in Miami, and frankly, I'm not here for it. What's the fun in that? Luckily, things are about to get a little more exciting at the shore, because Vinny Guadagnino is officially single. Why did Vinny and his GF break up? According to the Jersey Shore star, living it up in Miami took a toll on a relationship that was already on the rocks.
While filming Jersey Shore Family Vacation, Vinny was dating Instagram model Elicea Shyann, but he told Entertainment Tonight that they have since split up. "So, I wasn't using the 'smoosh room' on the show 'cause I was in a relationship on the show," he said. "I do have someone I really care about, she is the girl that I was with, but currently it didn't work out, so I'm single." That's too bad. Fans briefly met Elicea during the beginning of Jersey Shore Family Vacation, and it seemed like Vinny was really happy in the relationship — plus, his family loved her, which is huge. Ultimately, the timing for the two of them was just wrong, especially now that he's busy with Family Vacation.
Vinny said that appearing on Jersey Shore Family Vacation "slightly" led to the breakup: The couple had "problems beforehand," but the show is "the type of thing that could really be the straw that breaks the camel's back." Fans of the show (and all reality TV shows) know that the roommates have to hand in their phones and are pretty much isolated from the rest of the world during filming, which Vinny explained makes it difficult to maintain any kind of relationship:
You don't talk to the person for a month because you don't have a cell phone, you don't have a TV… you don't have communication so, you're like calling them every other day… On the duck phone! You can't even hear them.
When coupled with their "long distance relationship" (he's from New York, Elicea is from California), the stress of being on the show was just too much for their romance to handle. "A lot of things just made us feel like listen this can't happen right now, maybe down the line," he said. And while the Keto Guido is currently single, he's not giving up on his relationship with Elicea altogether — but first he wants to put his Jersey Shore days behind him. "I'm not looking to be with anybody right now," he said. "I really care about her but the logistics of the relationship are not working. I hope that the logistics work out one day so we can be."
Sweet, sweet Vinny. The 30-year-old star (I know — remember when he was like 24?) has always been the most sensitive of his roommates, and no matter what's going on, he's always been an all around good guy. That's why I totally believe him when he promises that he didn't do anything to jeopardize his relationship with Elicea while he was in Miami, even though he acknowledges that sometimes doing the right thing was hard:
I will say that being in a relationship was kinda tough, like, to be in a club every single night… alcohol every single night, I didn't do anything but like being in a position and then you know talking on the phone and, you know, explaining like I was in a club until 6 in the morning every night… that gets a little sticky. I know that I did the right thing and that's all that matters.
Be still my heart. Vinny, I know you're not looking to date anyone right now, but let me know if that changes, OK?