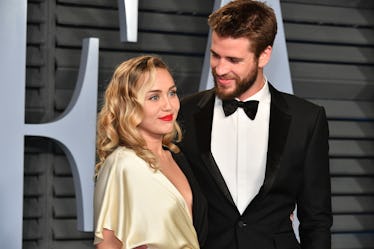 The Real Reason Miley Cyrus Deleted Her Instagram Had Nothing To Do With Liam, Apparently
Dia Dipasupil/Getty Images Entertainment/Getty Images
I can't blame you for freaking out when those rumors that Miley Cyrus and Liam Hemsworth had canceled their wedding over disagreements about when to have children started flying yesterday, especially considering their history of breaking up. That's why I'm so glad to announce that the Miliam breakup scare of 2018 is over. The pair totally shot down rumors they were donezo yesterday with an adorable Instagram video, and all was made right in the world. But that leaves everyone who was put through the emotional ringer yesterday asking one question: Why did Miley Cyrus delete her Instagram?
In the heat of Miliam-breakup hysteria yesterday, fans of the famous couple took the fact that Cyrus had wiped her Instagram clean of all her photos (and even her profile pic) as further proof that there was trouble in paradise. We know now that that wasn't the case (thank God), and a new report by Entertainment Tonight suggests that the real reason Cyrus purged her Instagram has nothing to do with her relationship with Hemsworth. Turns out, you're actually going to looooove the reported real reason she's ditching the 'gram for a while.
Apparently, Miley is working on new music, y'all!
A source close to Cyrus reportedly told Entertainment Tonight that Cyrus is trying to focus less on Instagram so she can focus more on Instagram.
"When Miley removed all the photos from her Instagram, she knew everyone would wonder why," the source told ET. "But her decision to do it wasn't earth-shattering. Miley says she simply likes to change things up! She is taking a long needed break and she feels it's healthy." Elite Daily reached out to Cyrus' team for comment on the report, but did not hear back by the time of publication.
As much as I miss Miley's cute Instagram posts (and Liam Hemsworth's special appearances), I can definitely get on board with this reasoning.
Apparently, Cyrus just needed a change as she gets into the artistic space needed to churn out the bops we're used to hearing from the former Disney Channel star. "She doesn't like getting stuck in a particular mold," the source continued. "She is working on new music and plans to come back with a brand new Instagram, with photos to promote her new music. She enjoys being a renegade and she likes to form her own style and when she is ready she will do it again."
Another aspect of Cyrus' decision to totally erase her profile was that she felt like it no longer represented who she is at present. "She loves change and doesn't feel like the same person she was when she started this account," the source adds. "She wants her new account to reflect the new Miley."
This is definitely a classic Miley move. The idea that her personality and, therefore, her image, can change at any moment is one Cyrus has talked about at length.
"I just want people to see that this is who I am right now," Cyrus told Harper's Bazaar about her recent fashion transformation that saw her ditch her extravagant and controversial outfits, like this —
— for a more toned-down, sleek, and elegant look.
"I'm not saying I've never been myself," Cyrus continued. "Who I was on the last record was really who I am. It's just 'myself' has been a lot of different people because I change a lot."
Do you, Miley. Whatever it takes to get those creative juices flowing is A-OK by me!