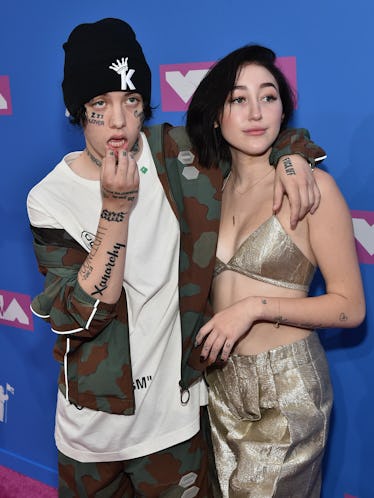 Lil Xan Just Admitted His Breakup With Noah Cyrus Was His Fault For A Sad Reason
Mike Coppola/Getty Images Entertainment/Getty Images
I'll be the first to admit that when I learned that Noah Cyrus and Lil Xan were dating, I brushed it off and didn't pay much attention to the stories. But what drama I have missed! The former couple had a messy and public breakup in September, but it seems like the dust is finally starting to settle (read: everyone's a lot less pissed). In an unexpectedly fast move following their split, Lil Xan is owning up to the part he played in his and Cyrus' breakup. Why did Lil Xan break up with Noah Cyrus, exactly? His comments about his role in their split are a mature move on the rapper's part.
"Honest to God, I would say like most of the reason the breakup happened was because of me," Lil Xan said in an interview on Open Late with Peter Rosenberg. "It was my fault," he added, saying, "We could have still been together, but I just feel like I f*cked everything up! It also put me in a darker place because I was getting slammed left and right." The rapper went on to say that he has "nothing but love for the Cyrus family." When he and Cyrus broke up at the beginning of September, his comments were much different than these sentiments, and it all played out on Instagram.
It all started when Lil Xan posted an Instagram Story during which he accused Cyrus of cheating on him. "I feel like I'm probably being cheated on," he said in the video. "Bad things always happen to the good guys so ima be an a**hole from now on if you ain't gang."
Xan's cheating accusations were apparently the result of a meme Cyrus texted him that he seemingly drastically misinterpreted. On an Instagram story, Cyrus posted a screenshot of her texts with Lil Xan (whose real name is Diego) that showed a nude picture of a man with Charlie Puth's face photoshopped onto it. Her post said, "im heartbroken and confused. this is the meme i sent diego that made him think im cheating on him." Elite Daily previously reached out to Lil Xan and Cyrus' teams for comment on the breakup and cheating allegations, but did not hear back by the time of publication.
Weeks after their breakup, and after Cyrus has already moved on, Lil Xan is now owning his fault in the split.
During the heat of their split, Lil Xan accused Cyrus of using him as a publicity stunt. He went on Instagram Live and said his and Cyrus' upcoming collaboration, "Live or Die," would no longer be released. He said,
The 'Live or Die' video is not gonna be coming out at this point, because I've been informed, like, you know when you, like, like a girl and sh*t and whatnot? But I've just been informed that basically it was all fake, and I'm being used. So f*ck it. I guess I was just being used. I thought, you know, I was in love, but whatever. I'll take that L. Heartbreak soldier. Thanks, Noah. Hope the song does well, if Columbia puts it out. Love all my fans, though.
In a Sept. 8 interview on Adam22's No Jumper podcast, Lil Xan said there was "lying on both of our sides" when it came to their breakup. "I would say 50-50 percent lying," he said. "At the end of the day, it was pretty staged when she said, 'I'm not going to let Lil Xan ruin my career,' and that kind of hurts. I felt like an accessory."
Cyrus denied the claims that she used Lil Xan as a publicity stunt in an interview with Cosmopolitan. "I was going through a breakup with somebody I was with for two years," she said, "and my heart's still broken over that, and then I let somebody in and got too comfortable too fast, I think, and it all blew up in my face, like breakups do."
In the middle of their breakup, Cyrus posted several videos of her crying and telling fans she was trying to stay positive. She said,
Guys, the truth about it all at the end of the day is that things suck, and that days are gonna suck, and that's just OK. And I want you guys to know that you're good on a sh*tty day. Everything's gonna be OK, though. I'm trying to stay super positive. Breathing. That's what y'all should all do if you're just sad or having a sh*tty day. Breathing is super important for me.
It seems like the damage is too far gone for Cyrus and Lil Xan to get back together (if that was even his goal with taking responsibility for the breakup), but celebrity relationships are one of the most unpredictable things on the planet. So, we'll see what happens.