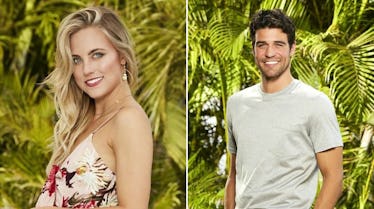 Here's Why Joe & Kendall Called It Quits On The 'Bachelor In Paradise' Finale
ABC
On Bachelor in Paradise, no relationship is truly safe from possible ruin. And on the Sept. 10 episode of Paradise, Bachelor Nation was in for a shocking twist. Fan favorite couple Joe and Kendall decided to part ways for good. As one of the stronger couples in paradise, absolutely no one saw this one coming and it's really throwing paradise residents (and Bachelor Nation) for a loop. So, why did Kendall and Joe break up? Well, it's all thanks to them not being on the same page... in terms of anything.
Kendall and Joe are known for their sense of humor, but when talking long-term relationships and possible engagement, that humor just wasn't conducive to moving forward in their relationship.
During a cabana conversation about getting engaged, Kendall, was caught off guard and, for some reason, seemed to feel that Joe wasn't serious about taking the relationship any further.
"It's been a long time. I met you day one. And we kissed day one," Joe said to Kendall. "I like you, I like your soul. I think after we leave here, it's gonna be weird not seeing you every day... But you never know, we might get engaged."
And that's when the cracks in the relationship started to show.
"Although we always joke around... and avoid serious conversation at all costs," Kendall responded, indicating that not everything was perfect in paradise.
Honestly, it's not really a surprise.
While things were going relatively smoothly for Kendall and Joe in recent weeks, something about their union just didn't feel quite right. First, there was Kendall's dalliance with the dashing Leo, which set Joe off. And then there was the couple's seemingly forced rhetoric of being open and honest at all costs.
As hokey as their relationship seemed at times, there was a connection of some kind -- at least there was for Joe. But it just wasn't enough to convince Kendall they could sustain a lifetime of marital bliss.
"I feel like when we were talking about being exclusive, I got a sense of it being not because we wanted to, but because we had to. Part of me obviously loves you, but I'm not sure what kind of love that is or if it's in love," Kendall explained to Joe the next night.
And then she questioned the integrity of Joe's intentions toward her. But Joe turned it around and said he felt Kendall wasn't sure what she wanted.
"You don't know how I feel? I'm with you all day long. I've been falling in love with you since day two," Joe explained. "I haven't been able to express that to you because all you said is that 'All my boyfriends try to suffocate me and I want to keep things open.' And, of course, I said we can keep things open because that's what you wanted to hear. I haven't kissed or gone on a date with anyone else. And I got pulled for multiple dates and the first thing that comes out of my mouth is your name."
Kendall kept insisting they were pushing forward because they felt like they had to and not because the feelings were genuine, which Joe really didn't appreciate. "You need to stop saying we," Joe insisted. "Please, I understand you feel that way. But that's how you feel. It just is. It's not how I feel. We're just not in the same place. That's what I've been scared about this whole time... The fact that you're not happy with where we're at after everything is really the answer."
This is when Joe decided he needed to leave with his broken heart. "I'm not staying," he said. "That's it. I'm going home. I'm leaving. Bye."
Kendall also decided to leave paradise. The whole thing was basically a tear fest and definitely heartbreaking.
It was a sad moment for Bachelor Nation, for sure, and a lot of people were deeply saddened to see a promising relationship end. Naturally, fans took to Twitter to express their grief and, in some instances, disbelief that the relationship was truly over:
Not to mention, there was an underlying sadness to Joe's time in Paradise anyway because he failed at finding love on Becca's season of The Bachelorette. His relationship with Kendall was basically his second strike. And fans are starting to wonder if third time's the charm.
Here's what they're saying on social media right now:
So, as I mentioned previously, this was a totally unexpected breakup and every Bachelor in Paradise fan is reeling from it. Here's hoping Grocery Store Joe goes forth and actually finds someone who loves him and whom he can love in return. Same for Kendall; she deserves happiness, too!