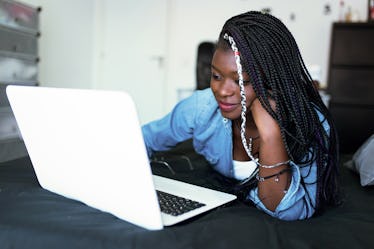 Craigslist Just Banned All Its Personal Ads In Response To Anti-Sex Trafficking Bill
For all those who have posted, peeped, and found each other on Craigslist missed connections, this one outlet for dating seems to have become a thing of the past. Yesterday, Congress passed a bill intended to stop sex traffickers by holding websites liable for hosting sex trafficking content. As a result, Craigslist banned personal ads. Elite Daily reached out to Craigslist for comment, but did not hear back by time of publication.
The company's statement, posted under the site's "Personals" category links, reads as follows:
US Congress just passed HR 1865, "FOSTA", seeking to subject websites to criminal and civil liability when third parties (users) misuse online personals unlawfully.
Any tool or service can be misused. We can't take such risk without jeopardizing all our other services, so we are regretfully taking craigslist personals offline. Hopefully we can bring them back some day.
The bill, which is called the Stop Enabling Sex Traffickers Act (SESTA), is intended to penalize sites who allow ads on their page to spread sex trafficking on the internet. Free Internet activists and sex workers have said that the bill imposes censorship and is a mishandling of state power. Others who posted on places like Craigslist say that they will miss having a platform that allows them to freely articulate and share sexual preferences under cover of anonymity.
People are pretty upset on Twitter about the prospect of Craigslist's Missed Connections section. Users would post messages searching for people they had met in chance encounters, locking eyes at coffee shops or exchanging a few words on the train, for example. However, it seems Craigslist's Missed Connections section hasn't been obliterated completely, as pointed out by one Twitter user. Rather, the site has moved its Missed Connections section to be under the "Community" umbrella instead. Who's to say whether that will remain to be the case, though.
One former user, Frank, said that he found Craigslist to be a sexually liberating place to post and find other people to meet up with.
"I wish it could stay up," Frank tells Elite Daily. "Craigslist's personals were a place where people could be very blunt about their sexual preferences, while being totally anonymous."
He says that while he understands Craigslist can't do much now that the law was approved by the Senate and plans to be signed by the president next week, and thinks their decision is valid in light of the legislation, he also sees the discontinuation of the personals section as a "real loss" for the people who relied on it.
He added that his experience using Craigslist personals to meet people was positive. "I definitely had a few interesting encounters (one including a blindfold, another leading into a threesome with a couple), but overall, it was good," he tells Elite Daily.
Frank predicts that people will turn to other apps to satisfy their sexual needs, or that a new app will pop up to take the place of Craigslist Personals.
And what about the sex workers who used Craigslist personals to find customers? According to a 2017 paper by Baylor University economics professor Scott Cunningham and other researchers, after Craigslist created its "erotic services" section, the rate of female homicides in the U.S. decreased by 17 percent. Posting online allowed these women to work independently, without having to go through a pimp or agency or having to be outside on the street.
Could it be that this new legislation that is introduced under the guise of protecting women could do more harm to sex workers who have taken their desirability into their own hands and profited from it? It's definitely a question worth asking. According to experts, this bill does seem to rely on the premise that all sex work involves sex trafficking, which is simply not true.
"If you conflate voluntary sex work with sex trafficking, this liability involves all of the sex work ads," Cunningham, who spent the past decade studying sex work, said to the Huffington Post. "Part of what's going on in this bill is basically to treat all sex work as the same thing."
Personally, I remember Craigslist Missed Connections fondly as the site that helped me connect to one of my ex-boyfriends. He and I went back and forth on the site for a few months during our early courtship, writing love letters back and forth between our cats. Goodness knows that the world needs a little lover and tenderness now more than ever. Though the Missed Connections platform lives on in a different section, I'm sorry to see the Personals section go.
Check out the entire Gen Why series and other videos on Facebook and the Bustle app across Apple TV, Roku, and Amazon Fire TV.
Check out the "Best of Elite Daily" stream in the Bustle App for more stories just like this!